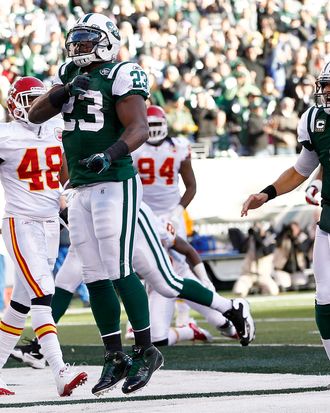 The Jets looked like their old AFC Championship Game–reaching selves yesterday as they smashed the Kansas City Chiefs 37-10 in a game that was almost too dull to keep watching by halfway through the third-quarter. Shonn Greene ran for 129 yards, Mark Sanchez scored four touchdowns (two in the air, two on the ground), and the Jets defense had no trouble with Kansas City quarterback Tyler Palko, who is so bad that you kept wondering if he was maybe throwing with the wrong hand. It was what the Jets are supposed to look like. Now, they just have to keep doing the same thing against teams that don't have Tyler Palko at quarterback.
Thanks to losses by Cincinnati, Oakland, and Tennessee yesterday, the Jets' win almost counted as two wins. If the Jets can win their last three games, they will, for the third consecutive season, enter the playoffs as a wild card. (As the sixth seed, actually, likely slotting them against AFC South champion Houston in the wild-card round — a very winnable game. There's a chance they could sneak into the No. 5 seed and face TEBOW, but that scenario requires the Steelers to lose out, which ain't happening.) At this point, anything other than a wild-card trip to the AFC Championship Game feels like cheating.
Of course, the teams they'll face in the final three games of the season are hardly pushovers, to say the least: They play at Philadelphia — which looked closer to its initial Dream Team concept yesterday than it had in a month — next Sunday, and then there's a quite massive Subway Bowl (or whatever we're calling it) against the Giants on Christmas Eve. On New Years Day, it's a road trip to face a recently dangerous Miami Dolphins team.
Certainly the Jets can win all those games and finish their season on a six-game winning streak. But it's far from a sure thing. And if they do it, it'll have to be without safety Jim Leonhard … again. For the second straight year, the defensive key has mangled his leg (this time it's his knee) in the last month of the regular season, costing him the playoffs. It's becoming quite unfair.
The Jets have fought their way back, once more, from a season that looked lost. We will all spend our holiday season finding out if they have a last kick left in them.