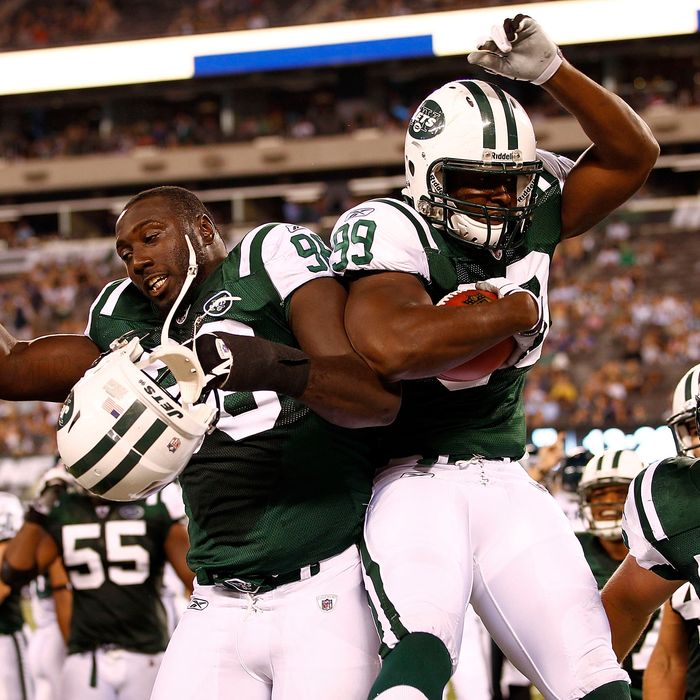 For all the drama and perceived/actual shortcomings of the New York Jets, it is worth noting that they are entirely in control of their own destiny, as far as the playoffs go. We've spent way too much time with the ESPN NFL Playoff Machine already, but let's goof around a little bit more.
First off, if you merely project victories for the team with the higher winning percentage, the Jets are in. Of course, that has the Jets winning out, since they have a higher winning percentage than all of their opponents so far. It's difficult to get the Jets to the No. 5 spot: You essentially need the Steelers to lose at home to the Rams to make that happen. You can do anything with the Playoff Machine. We even figured out a way to get the Jets the top seed in the AFC. (One should not hold one's breath for that.)
The funny thing is: In the grand spectrum, Sunday's game against the Chiefs doesn't make that much difference. The Jets sort of need to win out their last three games anyway, and, even with a loss on Sunday, it doesn't require much finagling to get them in. But a team that loses at home to the Chiefs probably isn't winning its last three games.
This game reeks of a Jets blowout, though, as much as they can blow anybody out. The Chiefs have the worst offense in the league, and they're trotting out Tyler Palko again at quarterback, a guy not even Ron Jaworski can lie himself into liking. It's not a game in which the Jets should have to worry about covering anybody deep: The only time the Chiefs will do that will be on the last play of the half (which is how they won last week).
The Chiefs offense is so bad that the only way the Jets could conceivably lose would be if the Jets turn the ball over deep in their own territory multiple times. Mark Sanchez had no interceptions last week. They need him to continue that. This is a game the Jets shouldn't screw up. With the Eagles, Giants, and Dolphins coming up to end the season, it's best they don't, no matter what that machine says. Not that it's gonna stop us from playing with it anyway.