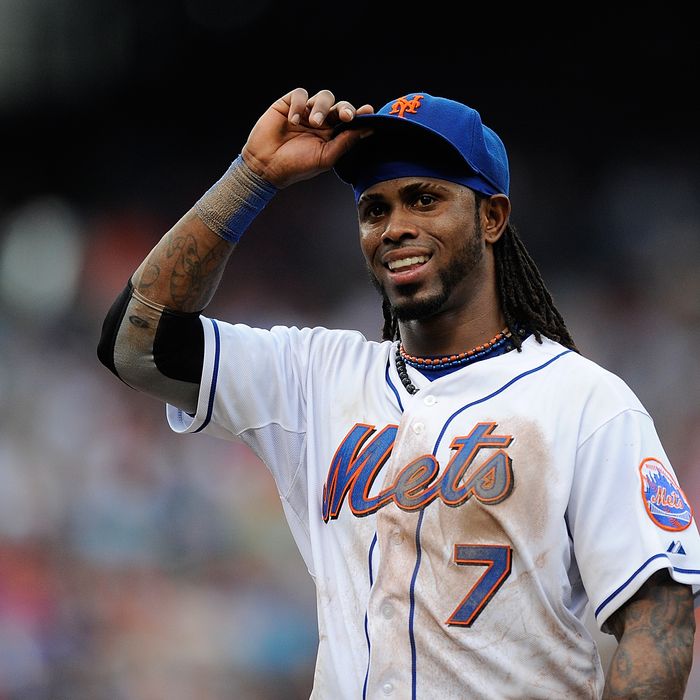 Do you remember Jose Reyes's last game as a Met? It was unpleasant — the type of incident that happens when a guy is running out the door. Reyes singled in the first inning — on a bunt — and then pulled himself from the game so he could edge out Ryan Braun for the batting title. (Reyes then spent the evening, one of the most exciting evenings in baseball history, hosting a party so people could watch him cheer for Braun to strike out.) It was a rainy, miserable day, Reyes didn't wave to the fans before bolting for the clubhouse, and a Mets season ended with a Miguel Batista two-hit shutout. (Nothing says "bright future" like a season-ending shutout behind a 40-year-old man.) It was such an inconsequential ending that you couldn't believe it actually was an ending. But it was.
Given that Reyes — for whom the "Jose, Jose, Jose" chants will never be heard in Flushing again — was not always the most reliable, fan-friendly presence, and given that the Marlins just gave a six-year deal to a guy with a bum hamstring whose whole value is tied up in his speed, it would seem to many a bit of a surprise that Mets fans are taking the loss of Reyes so hard. After all, Reyes, for all his excitement, has taken more than a little gruff from fans and management in recent years. And the Marlins' offer was a bit crazy; it has a chance to be a bargain, if Reyes plays 150 games every year for the next six years. Also, we have a chance to discover cold fusion or sprout wings and fly. Jason Fry at Faith and Fear in Flushing puts it well:
We cannot forget, on this day of misery, that every time Jose rounded first we held our breath a little. We asked the baseball gods to please not have him grab at his hamstring again. It happened way too often — in Jose's stats we see a glorious four-year run, sandwiched by an uncertain beginning plagued by hamstring woes, a 2009 season lost to them, a merely OK 2010 season and then last year. And last year, we must remember, was really a tale of two seasons. Reyes I was the stuff of clapping your hand to your head and turning to hug your neighbor while screaming "Didja see THAT???!!!" But then Jose hurt his hamstring again, and when he came back for Reyes II, he was cautious and tentative and merely OK.
Listen, we love Jose Reyes as much as anybody. But this isn't Albert Pujols, or, more to the point, Tom Seaver. Reyes was a risky player who, all told, hasn't felt particularly wedded to the franchise in a few years anyway, splendid three-month stretch in 2011 aside. Obviously, you'd love to keep him on your team. But the Mets aren't winning a World Series in the next four years with Reyes, and tossing out huge free-agent contracts without a solid franchise foundation in place is how the Mets got into this woeful mess in the first place. Sandy Alderson and company were brought in to clear out dead weight and fix this sorry organization. That was always going to take time. Sure, the Mets should have probably traded Reyes before the trade deadline, when they had the chance. But no one wanted them to do that, least of all Mets fans.
And that's really what this is about. Mets fans, quite understandably, find it difficult to grasp the idea that the Mets could be outbid for a homegrown free agent by anyone, let alone the freaking Marlins. (This Cardinals fan totally gets it right now.) The Mets' money worries have clearly been understated for years now, and it's going to be a while until they're settled. That's a frustrating thing to hear, particularly with a new tax-incentive-aided ballpark that's gonna be more and more empty this year. But the good news is that money is not going to fix the Mets' issues over the next three years anyway. Their issues are going to be fixed via the complete overhaul that Alderson and company promised was coming — an overhaul that's already happening — in the first place. The Mets are going to have a rough couple of years, yes, and Citi Field is going to be a sad little place. But that's been the case for several years already, and it was going to be the case for the next few years going forward. The Mets can't spend much money right now, which works out great, considering money wasn't going to do them that much good anyway.
Do you have faith in Sandy Alderson to fix this franchise? We do, we really do. And the work there is to be done goes far beyond the shortstop position. The Mets will miss Jose Reyes, and their fans will miss him even more. But there's so much more to do. Mets fans, once again, must be patient. It is perfectly justifiable for them to feel that patience has run thin, that they've been patient long enough. But signing Jose Reyes for a six-year, $106 million contact wouldn't have brought the good times back here anytime sooner. In fact, it probably would have pushed them farther off. It is too much to ask fans to wait this long, and to deal with this much frustration. But the Mets have no choice. Neither do their fans. This is how it works now. It could be worse. As any Mets fan could tell you, it has been.