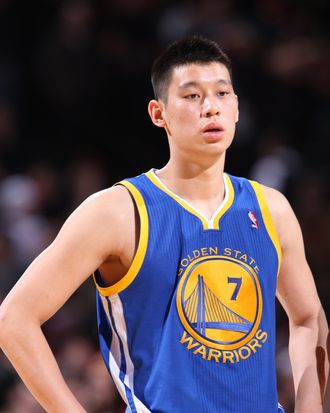 The Knicks had a mostly fruitful Christmas Day, actually surviving one of their own wacky comeback scenarios against a Celtics team that tends to stifle them. Quite a few of us watched New York's wildly vacillating path to victory, and we've had time since to reflect on Carmelo Anthony's brilliance, Amar'e Stoudemire's quiet performance, and the aftermath of Kevin Garnett's postgame throttlin' session. Meanwhile, the Knicks got battered something fierce in their first outing, and are left riddled with holes. Iman Shumpert, the audacious rookie who managed to squeeze off thirteen shots before disaster struck, suffered a horrifying MCL injury in the third quarter that's expected to keep him out up to a month (which is a lot of time, but not nearly as much as we all guessed when Shump went down. Shit got scary). Jared Jeffries quietly suffered a setback, too, tweaking an injured calf muscle and likely sidelining himself for the next week or two. 
So the Knicks, already appraised by most as a shallow, uneven squad, now have two rotation spots wide open. One of them — the one vacated by Shumpert — probably has to be filled sooner rather than later.
The immediate beneficiary of Shumpert's surrendered minutes will be Mike Bibby. Bibby's sore back, which kept him out of the opener, is reportedly well enough now that he can step in to spell Toney Douglas, which is good news insofar as the return of Mike Bibby can ever be good news. Losing Shumpert and recovering Bibby is a bit like buying a brand-new pair of shoes that look stylish as hell and fit pretty nicely (though, for the time being, they're not quite comfortable and need a little wear), only to step in a filthy slush puddle on your first night out in them … then replacing those with the smelly, worn-out pair of sneakers that can't play defense that you sheepishly claimed and brought home after finding them tied to an opossum carcass in a storm drain. You know?
With Baron Davis shelved for the foreseeable future, the Knicks know full well that a point guard depth chart of 1. Douglas 2. Bibby 3. Chair wearing sneakers isn't going to cut it, so they're looking outward for help at that position. Ian Begley put together a useful list of veteran free agent ones available, none of whom are particularly thrilling options. This situation may call for a bit of a flyer, and one particularly intriguing fellow of that ilk is Jeremy Lin, who will reportedly draw interest from the Knicks if he's cleared waivers at 10 a.m. today. The second-year point guard, known as much for his Harvard pedigree and status as something of an Asian folk hero as he is for his budding talent, played reasonably well in limited minutes for the Warriors last season. Golden State waived him just weeks ago, but is reported to be another team in the running for his services (Lin's a Bay Area kid). Signing Lin or another less experienced free agent like Zabian Dowdell or Pooh Jeter would constitute a creative and, at least in this Knick fan's mind, more promising solution to the point guard hole than reeling in a more familiar option like Earl Watson or Antonio Daniels. Nate Robinson's name has also been uttered, but nobody who remembers how Li'l Nate's dealings with Mike D'Antoni went believes that to be a realistic option. 
In any event, whether it's a youthful fringe-clinger or an aging retread, the Knicks are banged up and back on the prowl for new acquisitions.