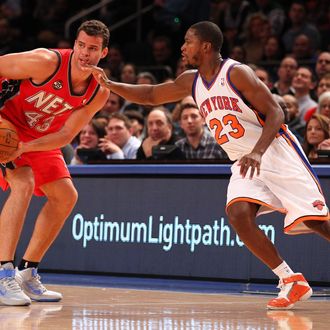 Toney Douglas has had his hands full defensively.
The Knicks play the second game of a West Coast back-to-back tonight, paying a visit to the Lakers. And as Lakers blog Silver Screen and Roll points out, the Lakers and Knicks find themselves in somewhat similar scenarios. Both teams are top-heavy, short-handed (the Lakers will be without  the suspended Andrew Bynum), and have struggled to engage their ample offensive talent in the season's first few games. For the Knicks, the struggles have stemmed from a new core that's failing to meld. For Los Angeles, it's more about an old core that got shaken a bit by the aborted Chris Paul trade (Lamar Odom has since departed, while Pau Gasol is somewhat awkwardly still a Laker). 
These Lakers will give the Knicks a slightly different look than they've seen previously. Toney Douglas, who has struggled to contain opposing point guards, should have a much easier task guarding Derek Fisher and Steve Blake. In turn, Tyson Chandler's interior defense might not be quite as compromised in favor of helping to defend penetrators. If Chandler can stay out of foul trouble, he should have a better outing tonight and get plenty of chances to match up with Pau Gasol.
Meanwhile, expect Landry Fields to face the task of containing Kobe Bryant, who's been scoring plenty so far this season despite suffering an injured wrist. Bill Walker, and perhaps a bigger fellow like Renaldo Balkman, should take some possessions against Bryant as well.
The Lakers come into this one after having blown out the Jazz in the third game of an otherwise dismal back-to-back-to-back to open the season. The Knicks, of course, will be just 24 hours removed from an absolutely hideous game against the Warriors. Again, you'll want a nap, as we've got another 10:30 p.m. EST start ahead of us (the final one of the season!). Hopefully, tonight's wee hours will be superior to last night's.