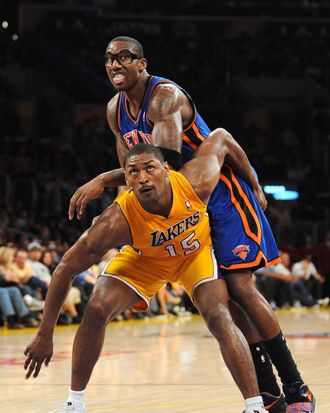 Amar'e Stoudemire trying to overcome World Peace.
It's early yet. Very, very early. There will be points in the season when the Knicks seem unstoppable, then more points at which they seem completely hapless, and then back to unstoppable. We haven't discovered the identity of the 2011–2012 Knicks. All we have is a three-game stretch in what promises to be a roller coaster of a 66-game season. That said, this roller coaster has unmistakably begun with a sharp descent (or, wait, this might not be a good metaphor, since a descent is kind of preferable in roller coaster terms. Perhaps it's a climb? Whichever part you find to be most terrible, that's what these three games have been like). After a brilliant first half on Christmas Day against the Celtics, the last ten quarters (even in that winning Celtics game) have been most discouraging. When the offense has succeeded, it's been the product of folks making long jumpers or one Knick getting hot — nothing even close to snappy ball movement and easy shots. The defense has been slightly more promising, but still seems to hinge upon uncontrollable opponent mishaps more than any impediments the Knicks are creating. In Los Angeles last night, the Knicks fell behind promptly and never really made a run. At no point did it seem like they deserved or had the fortitude to get back in the game. 
And those aforementioned sources of discouragement stayed plenty discouraging. Carmelo Anthony did what he could to keep the Knicks afloat, scoring an efficient 27 points on 14 shots. The rest of the team, though, failed to direct the ball to easy shot opportunities, and was forced to rely on a lot of late, long shots. These Knicks are capable of scoring even under those circumstances, but not on this night. The non-Melo Knicks shot 13–53 from the field, good for 24.5 percent. Amar'e Stoudemire (4–17) and Toney Douglas (2–8) were dreadful from the field, firing off-balance, harried attempts without much rhythm to ground them. The rest of 'em just never had any business shooting in the first place. If you opted to go to bed instead of watching the Knicks try to put a ball through a metal hoop last night, you made a wise move. I saw unspeakable things. (Stoudemire, by the way, turned his ankle and is day-to-day. He'll be fine, but … guh. That was the last thing his already-fizzling offense needed.)
The defense continued to struggle as well. New York has an apparent strategy of frantically hedging screens and trapping pick-and-roll ball-handlers with their big men, which would be fine if their traps didn't tend to be so ill-placed and flimsy. When you haphazardly send Tyson Chandler to double Steve Blake in the middle of the floor, you've now left a Laker big man wide open under the basket, and all it takes is a few dribbles and a fairly simple bailout pass from Steve to work the ball around to that open man while the Knicks scramble to cover their own error. It's maddening, and makes one wonder why New York can't just trot out a basic man-to-man and see what happens.
So, all told, you've got a team that, at present, relies on individual heroics to cover for feckless team offense and perilously convoluted defensive schemes. It's been every bit as ugly as it sounds. Things will get better eventually, both by virtue of injured Knicks returning to action and healthy Knicks learning to cohere, but for now, they are very, very bad. They'll sneak in one last West Coast game before the year expires. Hopefully, they can rekindle some genuine momentum heading into 2012, but it sure is hard right now to picture that.