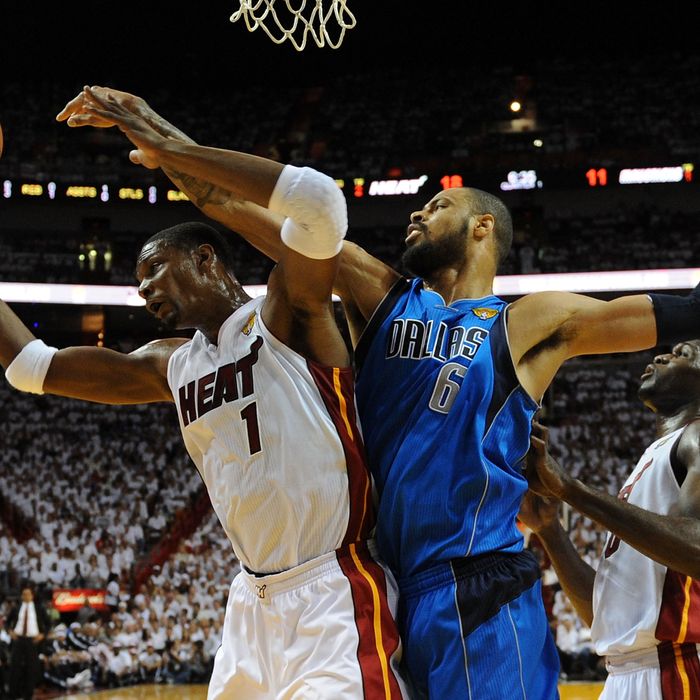 Tyson Chandler, seen here demonstrating why he might suit the Knicks.
My "Free Agency Opens Tomorrow!" post was going to be very quaint. I was going to talk about the Knicks' hopes of signing Grant Hill and the possibility of re-signing Shawne Williams or adding another cheap big man to fill out the roster. Then, I was going to sit back and eat some hummus and possibly take a nap. No longer. While the moves mentioned above remain in the conversation, the conversation has mostly turned elsewhere. Where, you ask? Well, to Tyson Chandler. Tyson Chandler? You mean the big man fielding multi-year offers in the tens of millions? Weren't the Knicks supposed to be making only miniscule offers and preserving cap room in hopes of landing Chris Paul? Yes, and yes. This is more than a little baffling, but let's try to make sense of it.
Okay, first, here's the report from CBS:
Berger reports that the New York Knicks have emerged as the leader for Tyson Chandler, ahead of the Warriors, who reportedly offered Chandler a four-year, $60 million deal Thursday. Berger reports that the Golden State offer isn't as "robust" as the report from California indicated.

In order to make room for Chandler, Berger says the Knicks would use the amnesty clause on Chauncey Billups, or trade him, then move Ronny Turiaf.

In the wake of Berger's report, ESPN.com reports that there is a "98 percent" chance Chandler winds up with the Knicks and that the Warriors will turn their attention to Los Angeles Clippers restricted free agent DeAndre Jordan.
Okay. To begin with, Chandler would fill a major need for the Knicks. Though something resembling the Warriors' reported offer would be a pretty hefty sum, Chandler is a big, true center who rebounds, defends, and finishes, and would fit beautifully alongside Amar'e Stoudemire. He's also a former teammate and beloved alley-oop-mate of Chris Paul, who has reportedly expressed interest in playing with him again.
Which leads us to the next thing: How does this affect the Knicks' hopes of getting Paul? Well, signing Chandler to a big contract would completely eliminate the possibility of signing Paul as a free agent this summer. The way to land Paul, then, would be to trade for him. With Billups and his massive contract gone, the only realistic options would be to deal Carmelo Anthony or Amar'e Stoudemire. That's right.
Of course, Paul's name is currently being tossed around in trade rumors that send him to the Lakers, which would end the Knicks' chances of acquiring him (again, free agency would be out of the question). In that case, the Knicks would suddenly be flush in the front-court but left with only Toney Douglas and Iman Shumpert — promising, but unproven individuals — to man the point guard position. They'd likely wait on cheaper, non-Paul guards in the 2012 free agent class — Steve Nash is the big name that keeps getting mentioned — to complete the team. There are also more immediate options, such as point guards released into free agency by the newly instituted amnesty clause. 
In summary: holy shit. Nothing can actually happen until tomorrow, but it does sound like the Chandler signing is imminent. What happens thereafter is a mystery.