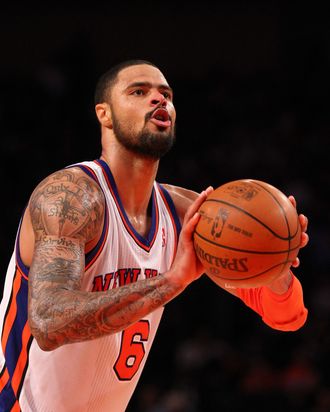 This man came pretty close to playing for tonight's Knicks opponent.
Because of that dastardly lockout, the Knicks will make only one West Coast trip this season, and they're getting it out of the way early. The guys are in Oakland tonight to face the Golden State Warriors, and they'll visit the Lakers and Kings before the year changes. After that, they won't set foot in the State of California again unless they make it to the finals (against the Kings, probably). In fact, now that I look at it, they won't play west of Texas at all for the rest of the year. So, it's probably nice for the Knicks that they're getting the heavy traveling done early, and also nice for us East Coasters that there won't be any 10:30 p.m. starts after this week. For those of us willing to stay up past our bedtimes, tonight should be pretty intriguing. 
Opponents' rosters tend to be populated with at least a couple former Knicks simply by nature of New York's prolific trading over the last few years, but the connections with Golden State run especially deep. To begin with, Golden State's starting power forward is David Lee, the lone bright spot on the pre-Amar'e Stoudemire Knicks. And while the guys New York got back in that deal are all gone (miss you, Anthony!), the Knicks did just sign a recent Golden State cut in Jeremy Lin, and also employ Tyson Chandler, who seemed like a sure Warrior before Glen Grunwald came knocking. Last of all, this will be Mark Jackson's third game as an NBA coach. Jackson's obviously a former Knick, and was also considered a prime contender for the job that Mike D'Antoni now occupies. 
So, there's plenty of familiarity between these two opponents. There's also some common ground in direction. While the Knicks have made a move toward better defense with Mike Woodson on the bench and Tyson Chandler beneath the rim, the Warriors are hoping Jackson can convince their guys to take that end more seriously (their counterpart to the Chandler acquisition is … Kwame Brown)? So far, they've played two slow-paced games, including an excellent defensive effort in Monday's win over the Bulls. This early in the season, it's tough to tell whether they're the same old flaky Warriors or if they've turned over a new leaf, so the Knicks best be sharp.
Meanwhile, New York may catch a break if Stephen Curry sits out. Golden State's sharpshooting guard (whom the Knicks once coveted, while we're at it) tweaked his injured ankle in the last game and is a game-time decision for this one. After he struggled to guard Rajon Rondo in the last game, folks will be focusing on Toney Douglas's defense, whether it comes against Curry, his backcourt mate Monta Ellis, or a second-stringer like Ish Smith.
Tip-off's at 10:30, so get a nap in!