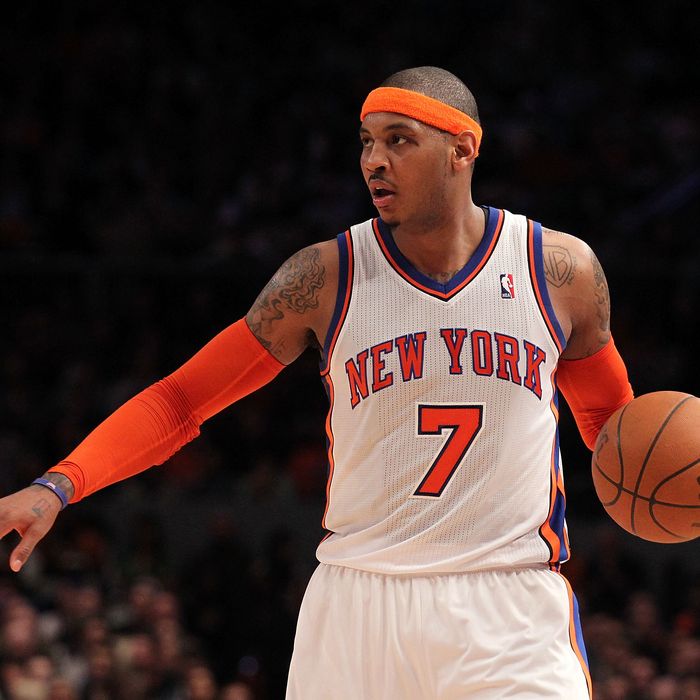 At long last, Knicks basketball is returning, and they've got a revamped lineup to boot. As part of our Knicks coverage all season, taking a note from Mark Lisanti's "Mad Men Power Rankings," we'll be tracking each player every Tuesday. Come join us for the Knicks Power Rankings!
1. Carmelo Anthony. This is a big, big year for Melo, perhaps more so than for any other Knick. It's his first full season (well, as full as it can be after a work stoppage) in New York, and that meddlesome cloud of trade rumors has blown elsewhere. He's turning 28 — a veteran, funny as that may be. He's coming off surgery to repair a sore elbow that had been bugging him for years. We hear a lot about players taking the "next step", but it's never clear precisely what that is. For Melo, it seems pretty straightforward. Now that he's healthy and settled, the Knicks expect Anthony to provide all the services that have made him a star — scoring, rebounding, late-game badassery — but for the team to truly contend, they need more. The addition of Tyson Chandler alone should improve one of the league's worst defenses, but if Anthony accesses even a portion of his defensive potential (flashes of which we've seen throughout his career), he could push the Knicks to the point of being a good defensive team, not just a less terrible one.
On the other end, the Knicks are famously lacking at point guard, where none of the available (healthy) options can be relied upon to create easy baskets for others. Again, enter Melo, who we've seen make artful, useful passes when in the mood to do so. If those fleeting moods grow into a regular mindset, the Knicks will be a significantly better team (and Anthony an MVP candidate). So, Melo, just to recap: We'd like you to score and rebound like the familiar Melo, and also defend and create for teammates like the Melo of our dreams. Cool? Cool. Thaaaaanks.
2. Amar'e Stoudemire. Here is a rough list of centers who have started alongside Amar'e Stoudemire during his career: Jake Tsakilidis, Jake Voskuhl, Steven Hunter, Boris Diaw, Kurt Thomas, a 35-plus-year-old Shaquille O'Neal, Channing Frye, Robin Lopez, Timofey Mozgov, and Ronny Turiaf. I may have missed somebody, but you get the gist: When he hasn't been playing out of position at center himself, Amar'e's spent his entire career alongside fives who were misshapen, deteriorating, or just mediocre. Last season, Stoudemire often acted as the de facto man in the middle, which likely enabled his distracted, ball-chasing ways on defense. Tyson Chandler constitutes the best sidekick Amar'e's ever had: a natural center and elite defensive big with enough hand–eye coordination to catch and finish around the basket. Stoudemire is finally, unambiguously a four, which means he's run out of excuses as a defender. His tendency to drift when guarding the pick-and-roll was the most exploited soft spot in New York's defense last season. Now that he's got help behind him, we should theoretically see less of that inattentive pick-and-roll D and, in turn, fewer career nights from opponents like Tyler Hansbrough and Brandon Bass. Theoretically.
3. Tyson Chandler. So, yeah, the Knicks' team defense, and particularly that of their stars, has room and reason to improve, but the addition of Chandler is undoubtedly the major difference between this year's squad and last year's. Even if he operated in a vacuum, Chandler's interior intimidation and rebounding would give the Knicks a new look. The hope, though, as mentioned above, is that Chandler's defensive presence will have a trickle-down effect. If you watched that live training camp special on MSG, you saw a lot of Chandler barking directives and compelling his teammates to defend — a role that often gets to compared to a middle linebacker's. The Knicks haven't had a guy like that in quite a while (Jared Jeffries is like, "What am I, chopped liver?" and we're like, "Yeah, kinda."). So at least at this preseason point of all hope and minimal hard evidence, one envisions Chandler as both defender and on-court defensive coordinator. His offense, meanwhile, will rely quite a bit on the whims and progress of …
4. Toney Douglas. Douglas, at least until Baron Davis returns or Carmelo Anthony fully embraces a positional revolution, is the starting point guard and chief ball distributor of the 2011–2012 New York Knicks. That's a tall order for Douglas, who's had some solid outings as a deputy starter, but has never demonstrated the necessary court vision or steady handle to be a first-string game manager. One tries to avoid generalizing from a preseason game, but in Saturday's first matchup with the Nets, Douglas failed to demonstrate that he'd made strides as a true point guard. The Knicks aren't as desperate as they once seemed — a change in Melo's game, plus the additions of Davis and Mike Bibby should mitigate the need to depend on Douglas — but if the list of things that Toney Douglas does could grow to include adept point guard play, it would make New York's path toward success that much simpler. If not that, then it's reasonable to expect that he at least show maturation as a scorer and defender.
5. Landry Fields. Fields finished an otherwise brilliant rookie campaign on a sour note, with an all-consuming slump that began just after the Melo deal and lingered throughout the Boston series. Like Douglas, he didn't look like he'd put last season completely behind him in Saturday's exhibition game, which is the extent of our sample so far. For Landry to succeed, it seems he'll have to occupy a role closer to the one he played before the blockbuster trade: opportunistic scoring off catches and loose balls, with little work off the dribble and no demand that he create his own shot. Again, this is where a top-notch distributor could make a difference, but Fields should be able to settle into a niche with or without the help of a doting point guard. 
6. Iman Shumpert. It'll be wonderful if Douglas and Fields can fulfill their positional demands, but if they don't, there's an eager up-and-comer waiting in the wings. Right now, Shump-Shump isn't a point guard and he isn't a shooting guard. He's just Shump-Shump. And besides endlessly entertaining and referring to himself in a complex third-person , Shump-Shump has preposterous athleticism, dogged defense, and an improved scoring repertoire to offer his team (all of which were screamingly apparent on Saturday). He'll provide those services off the bench for the time being, but he seems ready and willing to step up should his superiors falter.
7. Renaldo Balkman. Right now, there's a pretty significant drop-off at this point in the list in terms of clear-cut contributions to come, so we might as well acknowledge Balkman's splendid performance in Saturday's game against the Nets. In the limited burn he got last season, Balkman seemed to embrace his role as human victory cigar, attempting feats that were either above his skill set, outside the rules of basketball, or just beyond the realm of human capability. In his 22 minutes on Saturday, the man we call "Humpty" looked genuinely engaged — scurrying for loose balls, sneaking into open spots on offense, and drawing fouls in the process. Whether he can make such contributions during the season, or even get the opportunity to do so, remains to be seen, but as long as it's still the preseason, Balkman deserves recognition.
8. Jared Jeffries. Unless Josh Harrellson really impresses Mike D'Antoni (and until the Knicks make another signing), this is your first forward off the bench. D'Antoni knows full well what Jeffries can (play solid floor defense) and can't (most everything else) do, so hopefully the lineups around Jared are composed accordingly. (And, uh, it'd be great if whoever gets signed between now and Christmas obviates the need to give Jeffries a lot of minutes).
9. Mike Bibby. Bibby hopefully won't be relied upon often, but he's a useful body to have around as a stopgap point guard. Bibby couldn't defend you, but he can hit an open jumper and make a basic entry pass. There's room for that. 
10. Josh Harrellson. Harrellson had some splendid moments in Saturdays' exhibition, chief among them a no-hesitation dead-eye three-pointer from the top of the arc within seconds of entering the game. "Jorts" should get a shot to provide some rebounding and hustle-y things (he's got surprisingly nimble feet on defense) off the bench. If he can hit a jumper, he just might stick.
11. Jerome Jordan. We didn't get to see any of Jordan on Saturday, and it seems possible that last year's 44th pick, even after a year of professional play in Europe, is still too much of a project to set foot on the Garden hardwood. If he's at all ready, though, there's room for him behind Tyson Chandler. Either way, he's definitely got a lot to learn from Chandler, who was all over him during MSG's training camp special.
12. Bill Walker. Walker's been out with a groin injury for the last week and change, so we haven't seen any of him in training camp or the preseason to date. Hopefully that's not a lingering problem, because the second unit could use his scoring (and defense and rebounding and all the other things he could totally offer if he was so moved, while we're at it).
13. Chris Hunter. Hunter and Devin Green are the two guys the Knicks brought in for training camp. Hunter, a big man who was at camp in 2009 and went on to have a decent year with the Warriors, seems the likelier of the two to make the team, should there be an open spot.
Injured, but likely to shoot up the rankings whenever he returns: Baron Davis
Probably a Knick, but not formally signed as of yet: Steve Novak
Probably going to be cut, despite seeming like a cool enough bro: Devin Green