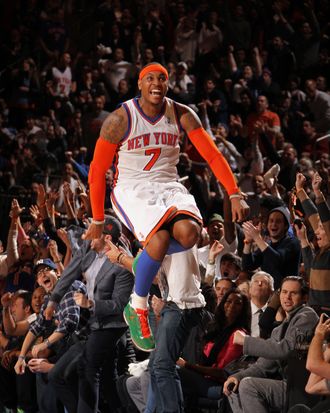 At long last, Knicks basketball has returned, and Mike D'Antoni's got a revamped lineup to shuffle. As part of our Knicks coverage all season, taking a note from Mark Lisanti's "Mad Men Power Rankings," we'll be tracking each player every Tuesday. Come join us for the Knicks Power Rankings!
1. Carmelo Anthony. (Last week: 1) Well, one game into the season, Melo's MVP candidacy is alive and well. Huzzah! Anthony was dominant in Sunday's win over the Celtics, gobbling up one-on-one situations against the ill-equipped Sasha Pavlovic and Marquis Daniels. Melo did almost all of his work from the right side of the floor, particularly in the fourth quarter, when he single-handedly matched the Celtics with seventeen points off elbow jumpers and trips to the foul line (though his game-deciding free throws came from a call on the left side of the floor). Besides his 37 points, Anthony did a bit of dishing in pick-and-roll situations, notching three assists in the process, and defended at least enough to record two steals and a block. With the Knicks now short another ball handler and far deadlier wings than Sasha Pavlovic on the schedule, New York will need even more dishing and defense from their star. Unless he wants to make 37 points on seventeen shots a nightly thing. That'd also suffice.
2. Amar'e Stoudemire. (Last week: 2) There were moments at the end of last season in which Stoudemire, paired with Carmelo Anthony, just couldn't get involved in the offense. On Sunday, we got another little whiff of that, as Amar'e used just 18.1 percent of New York's possessions while he was on the floor. Curiously, many of Amar'e's touches came in isolation or as a tertiary decoy in Melo-Tyson Chandler pick-and-roll situations, with few instances of Stoudemire setting the screens himself. He still managed to notch 21 points on 8-11 shooting, but we should probably expect to see Amar'e more deliberately involved in the offense going forward.
3. Tyson Chandler. (Last week: 3) It wasn't a splendid first outing for Chandler, who blocked six shots and deterred several more, but also serially failed to box out Brandon Bass & Co. No worry, though. It was wondrous just to see a 7-footer patrolling the paint with a genuine interest in basket contraception. The few occasions in which the Knicks were able to get Chandler involved offensively were promising as well.
4. Toney Douglas. (Last week: 4) Douglas led the Knicks in shot attempts on Sunday with nineteen takes, eight of which he converted. On a team that employs Carmelo Anthony and Amar'e Stoudemire (who, again, was just 8-11), this should pretty much never happen. To his credit, Douglas did look interested in creating for others in the early going, although he was perhaps too deliberate in his creation at times. Toney's got to strike the right balance between making confident, penetrating passes and telegraphing his intentions for all the world to see (and steal). Meanwhile, Rajon Rondo's nightmare train to the rim kept chugging from where it left off in last year's playoffs. Douglas, who is a competent but perhaps overrated defender, lost track of Rondo on damn near every Celtics possession. All told, it wasn't the best start for Douglas, but his starting role isn't going anywhere soon. 
5. Iman Shumpert. (Last week: 5) Since these are retrospective power rankings, let's take this opportunity to mention that, although Shumpert shot very poorly from the field, he looked ready and willing to be the second unit's first option. The rims were unkind to Iman, but he Shumped his way through multiple defenders and right to the rim on numerous half-court and transition possessions. Unfortunately, he'll drop right off this list next week with a sprained MCL that's expected to keep him out for several weeks. Major bummer, but at least he showed signs in the stunted glimpse we got.
6. Landry Fields. (Last week: 6) It was a quiet, nondescript first outing for Fields, whose ability to keep track of Ray Allen seemed to dwindle as the game progressed. It feels weird to rank Fields as the sixth most "powerful" player on a winning team, but … scroll down.
7. Bill Walker. (Last week: 12) Walker, who missed the whole preseason because of a groin injury, got a somewhat surprising amount of burn off the bench. Walker did a nice job closing out Kevin Garnett's final shot despite being picked by his own man, and also did well to brush off Garnett's attempt to snatch his trachea seconds later.
8. Jared Jeffries. (Last week: 8) Jeffries looked perfectly Jeffries-esque on Sunday (helpful defense, painful offense, one unfathomable conversion of a long two) before re-injuring his calf. He'll be gone for a week or two, which leaves room for …
9. Renaldo Balkman. (Last week: 7) Balkman will probably see an uptick in minutes with Jeffries absent, and he gave us a tiny glimpse of what he might contribute (scrappy defense, rebounding, filling open lanes on offense, dreadlocked exuberance) on Sunday as a follow-up to some truly impressive work in the preseason.
10. Josh Harrellson. (Last week: 10) Harrellson looked pretty shaky — like, literally quivering — in his Garden debut. He'll have plenty of opportunity to get comfortable, though, as he, too, will benefit from the Jared Jeffries-shaped hole (more of a slit, really) in the frontcourt. We're still waiting to see Jorts launch some threes in a game that counts.
11. Steve Novak. (Last week: Wasn't a Knick yet) Novak was in uniform for Sunday's game, but didn't get a chance to spin. It remains to be seen how much Mike D'Antoni intends to tap into Novak's three-point prowess and down-home charm.
12. Jerome Jordan. (Last week: 11) Jordan hasn't touched the floor as a Knick yet, and unless D'Antoni sees him as a suitable replacement for Jeffries, probably won't anytime soon. I'm pretty sure I saw Jerome in an "NBA Cares" commercial, though, so at least he's getting exposure, right? It's not every day that you're in a nationally televised commercial! 
Injured: Baron Davis, Mike Bibby (who will return this week)
Now a Knick: Jeremy Lin, who got picked up not long after I posted this this morning! Lin might have been enlisted for emergency depth, or he might get minutes at point guard starting, like, tomorrow.