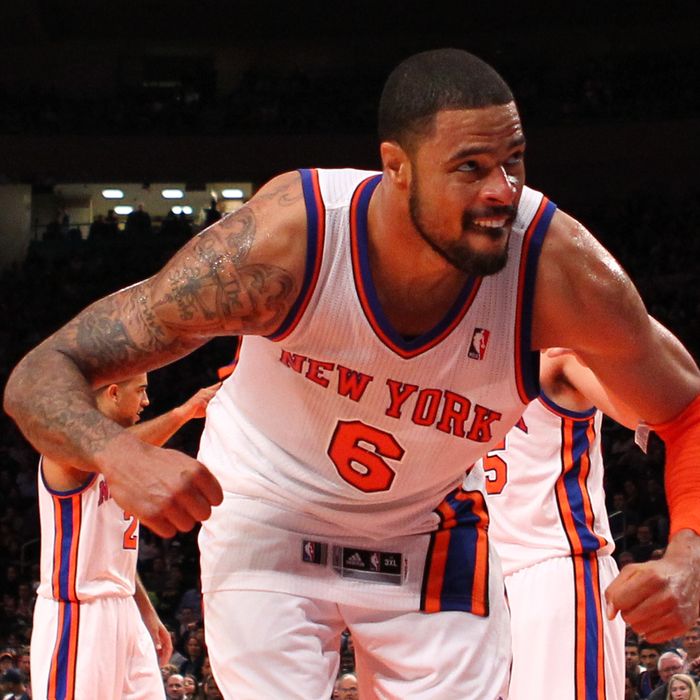 Tyson Chandler, just flexin'.
The Knicks defeated the Nets once again last night and, with that, completed their hurried preseason dress rehearsal. For the second game in a row, the play got unseemly at times — the teams combined for 37 percent shooting, 38 turnovers, and 49 fouls — which leads one to believe that the games from Christmas on aren't going to be very different, only those games count. So, these two exhibitions have done plenty to presage what should be an unusually sloppy season of pro basketball, which makes sense in the unusual circumstances. Beyond that, though, they've given us reasons to be excited about these Knicks, as well as some outline of their approach.
That approach is unmistakably more defensive so far. Their opponents' shooting numbers will drop from last year's on their own, simply because everybody sucks at shooting right now and the league-wide rust epidemic won't just disappear. Beyond that, though, the Knicks have given the impression that they're ready to move up the league rankings in D (although, to be fair, the only way to go is up). Tyson Chandler unfurled his full shot-swattin', 'cep-flexin' defensive display last night, hounding Brook Lopez when the two were matched up and toppling folks en route to twelve sky-scraping rebounds. But, as we've said before, Chandler's defensive presence is not self-contained. He's like a less sadistic version of Kevin Garnett, audibly demanding that his teammates follow his defensive lead. And, at least to some extent, they've obeyed. Amar'e Stoudemire and Carmelo Anthony haven't suddenly morphed into defensive savants, but they have looked considerably peppier on that end.
And last night, a unit consisting of Toney Douglas, Iman Shumpert, Devin Green, Renaldo Balkman, and Josh Harrellson occupied nearly the entire fourth quarter and finished the game on a spirited, defense-heavy run. That whole time, Chandler could be seen (and heard) projecting his presence from the bench, howling commands and praises alike at the youngsters. Mike Woodson was the defensive coaching hire of the off-season, but it's tough to ignore Chandler's additional contributions in that department. 
So, the defense should improve because of Chandler and the effect he has on others, because of Woodson and, again, because teams are going to be pretty much defending themselves for at least the early part of the season. New York's offense mustn't be taken for granted, though, as it could take a hit in efficiency if they don't pursue a more creative approach. Two games of haphazard preseason ball haven't given us much in the way of certainty at the point guard spot. Toney Douglas has looked pretty feeble with the ball in his hands, while Iman Shumpert just wants to shoot it, Baron Davis is hurt, and Mike Bibby is still Mike Bibby. For the time being, none of the point guards can be relied upon to, say, execute a timely, accurate lob to Chandler as he slips behind the defense.
The only Knick who's looked up for that kind of task is Carmelo Anthony, and it seems Mike D'Antoni wasn't kidding about letting him run some possessions as a "point forward". Anthony did a lot of the table-setting and notched six assists (six turnovers, too) in the two-game preseason, which isn't a terribly impressive number, but also fails to acknowledge plenty of feeds that went unconsummated. He's demonstrated both a willingness to share and a natural gift for identifying and exploiting angles of opportunity. Those are things we'd seen in glimmers before, but rarely at the rate displayed in the past two games. That's not to say that Melo's abandoned his contested jumpers or his fifteen-second jab-step ballets; he's just been noticeably more willing to defer and, better yet, to assist since returning to the court. Perhaps that style of play won't carry into the season, but if it does, it would do wonders for guys like Chandler and Renaldo Balkman, who are gifted cutters and finishers when in the care of a capable set-up man.
So, while the sour ball-handling and shooting percentages of the preseason will likely linger into the meaningful games, one hopes that some other new trends– a defensive mentality spearheaded by Chandler and a passing game initiated by Anthony– might carry on as well. These games are going to get ugly, but somebody still gets to win, right?