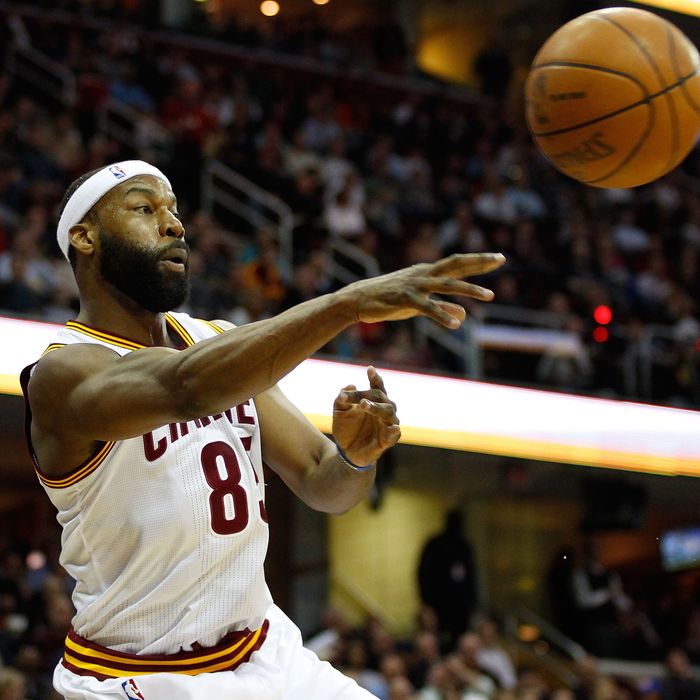 The Knicks roster, as delineated by Mr. Leitch earlier, is nearly complete. They're not quite fully staffed, though, and remain somewhat thin at a few positions. One of those positions is point guard, where, even with the illustrious Mike Bibby now on the roster, the Knicks don't have a surefire starter. Enter Baron Davis. As Ken Berger of CBS tweets, there remains a mutual interest between the Knicks and the bearded one:
Source says "looking promising" that Baron Davis gets waived and ends up w/ Knicks. Cavs haven't made decision, though, and have til Friday.
Landing Davis would be a pretty big deal. He could take over the starting point guard duties while Toney Douglas and Iman Shumpert develop and capably set the table for the Knicks' fancy new front court. 
It's not quite that simple, though. There are significant obstacles standing between Davis and Madison Square Garden. First, Davis has a bad back that's held him out of Cavaliers training camp so far (and it does appear to be a legitimate injury, as opposed to an, "Ow, my back. You guys should totally waive me" injury). Second, Davis must obviously be dumped by Cleveland (likely via the amnesty clause) to even have a shot at joining the Knicks, and even then, he must first clear waivers without being scooped up by a team under the salary cap. Then, if he's available, Davis must be willing to sign with the Knicks for their $2.5 million "room exception" or the $1.4 million veteran's minimum contract. So, that's kind of a lot of things. The Knicks could really use a clear-cut starting point guard, though, and Davis is pretty much the last guy out there (and he's not even really out there yet). If not Davis, then it'll be some combination of Douglas, Shumpert, and Bibby, which isn't terrible, but also isn't ideal, particularly with a lob-loving big man like Tyson Chandler now on the roster.
It's also worth mentioning that the Knicks are a bit thin in the front court. Take a look at Will's post again and you'll see there's not much there behind Amar'e Stoudemire and Carmelo Anthony. And because of that, this Knick fan is hoping beyond hope that New York can come to terms with Shawne Williams. This squad could really use some Extra E.