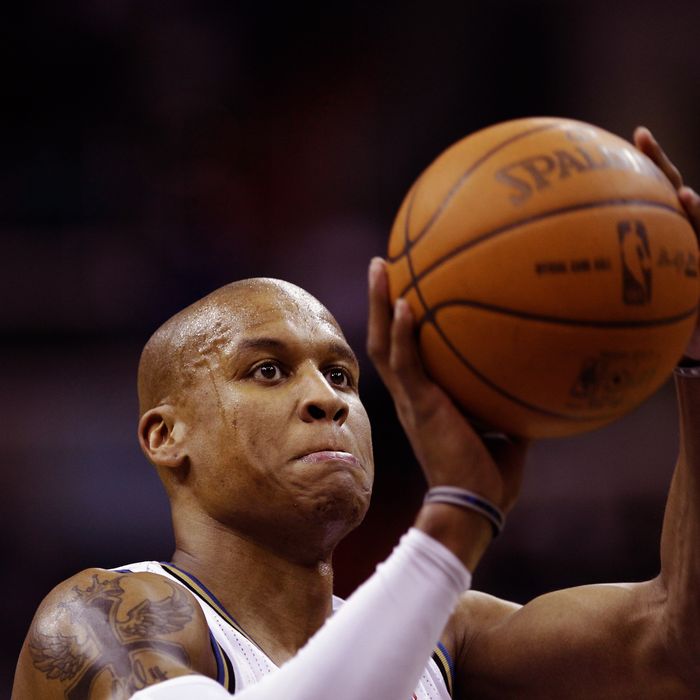 Consolation prize Maurice Evans.
Some point today, probably this afternoon — because NBA players are not always so good about waking up early — Jamal Crawford will decide which team he's going to sign a contract with. Crawford has been awfully Hamlet about all this, "narrowing" down his choices to the Knicks, Pacers, Trail Blazers, Kings, and Timberwolves. (He's since ruled out Indiana.) That's a lot of people waiting around to see what Jamal Crawford is doing. We'd argue this is the most attention Jamal Crawford will receive for the rest of his natural life. No wonder he's taking his time.
It seems clear that Crawford would like to go to the Knicks. The problem is that the Knicks can only offer him the one year, $2.5 million exception, and other teams can do far better than that. We remain unconvinced that Crawford is the right fit for the Knicks; he needs the ball too much, he doesn't play defense and, man, there's just bad Knicks mojo around that guy. (Having him and Jared Jeffries on the team might be almost too much for fans to withstand.) Still, one year, $2.5 million is a great deal for Crawford … which is why he's almost certain not to take it.
Once Crawford makes his decision — seriously: lots of waiting around for Jamal Crawford — if rebuffed, the Knicks will use the exception on one of two players, it appears. The first is Shawne Williams, the three-point shooting "swingman" most famous for his corner treys, or "poops," as Seth might put it. This is the preferred solution: Everybody loves Extra E. But he might want more money too. The Post  this morning offers up the other option: Wizards guard Maurice Evans, a veteran who is not so much about the scoring as the defense. He'd be a reserve no matter what, but perhaps a handy one; remember, Tyson Chandler cannot, in fact, guard all five opposing players. He is also vice-president of the players union, so you know he looks good in a suit. It probably makes sense that he is a union rep: If he signs with the Knicks, they'll become the eighth team he's played for since entering the league as an undrafted rookie in 2001. (And that's not counting two stints in Europe.)
Evans wouldn't be the most inspiring addition, but he'd be handy to have around for a team that could use some backcourt depth and some stray defense. There's still a chance that Baron Davis ends up here, too, though that is looking less and less likely. We'll know more today, and then, folks, then this roster will just about be completed. Then they will play actual basketball games and we'll find out if this is worth all the fuss.