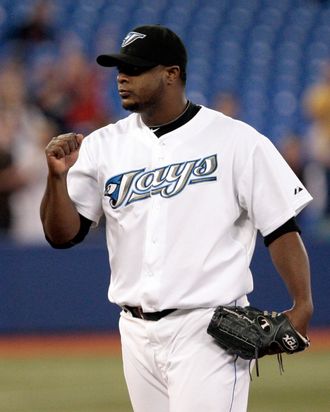 Today, the Miami Marlins will officially unveil their new shortstop, a guy named Jose Reyes. And at some point today, we will all know whether or not the Marlins will be signing Albert Pujols. (Last minute prediction here: They won't be.) This will be a sad day for the Mets, but Sandy Alderson and company have a distraction for you: Four new Mets. The Mets were busy yesterday. Get thee to the team store! Jon Rauch jerseys ahoy!
The Mets signed two relievers from the Toronto Blue Jays yesterday, Jon Rauch and Frank Francisco. Perhaps more intriguingly, they traded Angel Pagan to the San Francisco Giants for outfielder Andres Torres and reliever Ramon Ramirez. These are roster moves! Let's take a look at each guy.
Frank Francisco. The most expensive signer, he received a two-year, $12 million deal from the team. This is relatively inexpensive for a closer, but it's not inexpensive for a Frank Francisco. He never quite nailed down the closer job in Toronto, notching 17 saves in 21 chances. He averages more than a strikeout an inning, which is good, but he's often injured, which is bad, yet will also make him feel right at home at Citi Field. The most famous pitch he has ever thrown was probably the chair he tossed into the Oakland Coliseum stands in 2004, which lead to an aggravated assault charge. At least the chair didn't hit his girlfriend's dad, unlike some Mets' closers.
Ramon Ramirez. It's possible Ramirez is the best player the Mets got yesterday. He certainly had the best 2011, posting a 2.68 ERA and almost a strikeout an inning himself. He is also, despite what loutish radio dope Tony Bruno might believe, not "an illegal alien." Only downside: He's older than you think — 30 years old — and he's arbitration-eligible.
Jon Rauch. Rauch, who was ranked as the best prospect in baseball the year Albert Pujols and Ichiro Suzuki came into the league, certainly looks like a dominant reliever. He's crazy tall (six-foot-eleven) and covered in tattoos, to the point that opposing managers have complained that his body ink is distracting to the batter. The problem is that he's not all that great. You would think a guy that tall would have a decent strikeout rate, at the very least. He does not (36 Ks in 52 innings last year). He is seriously tall, though.
Andres Torres. Meet your new Mets center fielder. Torres will take over for Pagan, and even though he had a lousy 2011, he takes walks and has a little bit of power, even though he's getting slower as he gets older. (As we all are.) Perhaps most importantly, though: He's not Angel Pagan. Sandy Alderson and Terry Collins were clearly exasperated with Pagan last season, and they're certainly happy to see him go. They won't have any such problems with Torres, who is universally regarded as one of the nicest, most likable men in baseball. And not only that: Torres has even had a documentary made about his life, called Gigante. He's destined to become a fan favorite. It's just a shame his first name isn't "Jose." It'd be nice to keep that chant going.
None of these moves should bring the Mets any closer to overcoming the loss of Reyes, and the money sort of turns out to be a wash. But there are now four new Mets. That is movement. It's something!