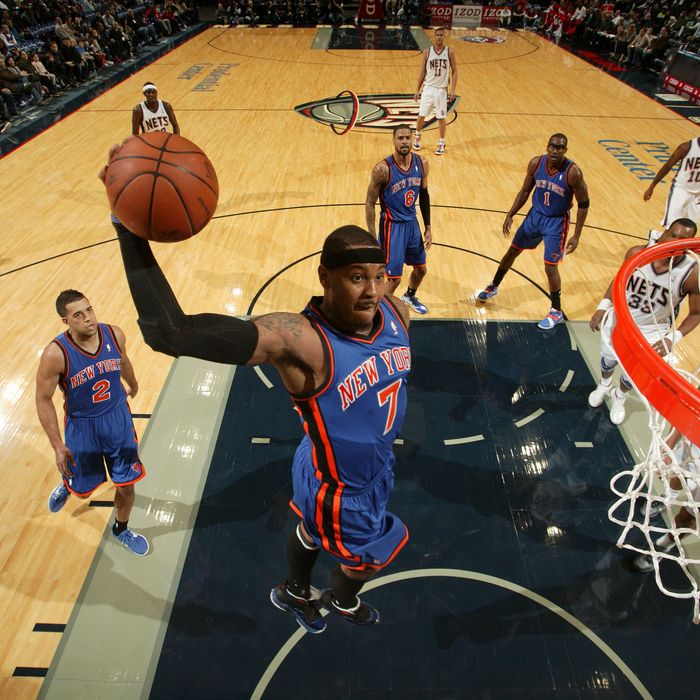 The NBA season starts on freaking Sunday people, and the whirlwind of activity over the last fortnight shouldn't distract us from that basic fact. There is a whole season to project! We stopped caring about random predictions from idiots like us years ago, once the Internet made it that much more obvious that everyone was guessing. Instead, we go the stat folks, the people actually studying all this business. Baseball has Bill James and Baseball Prospectus. Football has Football Outsiders. And the NBA has Basketball Prospectus and John Hollinger. We can talk all we want about what Tyson Chandler and Baron Davis and Shump-Shump will do for the Knicks: We trust nothing anymore until it has been Nate Silver-ed up. So: What's everybody saying about the Knicks?
First off, we thought we'd take a look at Basketball Prospectus and their SCHONE projections. (Go buy it.) Bradford Doolittle writes the chapter about the Knicks, and he makes a scary parallel: These Knicks are sort of just collecting talent the way Isiah did. Gulp.
Our projections suggest that New York is again going to have to outscore people. Despite the addition of Chandler, SCHOENE sees the defense as remaining stuck in the league's bottom third. It also sees an even more efficient offense relative to the league. Add it up and you've got a team a little over .500 that will be in the mix for the fifth or sixth seed in the East. This isn't exactly what Walsh was building towards. There is little to no flexibility cap-wise for at least the next four years. The amnesty clause was burned on Billups. Unless the Knicks completely tank and winds up with a top-five pick, they won't have a selection in the 2012 draft. There are still a lot of holes on this team and it's not entirely clear how they can be filled. Unlike Miami, New York hasn't assembled a powerful enough roster to attract ring chasers willing to play for peanuts. Unfortunately, that's likely to become abundantly clear this season.
Doolittle has concerns about the NBA's "new guidelines for calling the rip-through move and continuation plays," which could hurt Carmelo Anthony, calls Toney Douglas an "exceptional value," calls Fields "the game's best rebounding guard," and compares Iman Shumpert to Fat Lever. B-Pro picks the Knicks fifth in the East. Suffice it to say, that'd be considered a disappointment.
How about Hollinger? (Insider required on that link.) Uh-oh: He has them seventh in the conference, saying, "I'm not sure the Knicks have dramatically improved." (He picks them to go 35-31 on the year; a No. 7 seed — behind Philadelphia! behind Indiana! — which would pit them against the Chicago Bulls in the first round.) Mostly: He and the stats are worried about injuries:
I have trouble envisioning a high seed for this team. The Knicks get more dangerous once the playoffs begin. If their three frontcourt stars and Davis make it to May upright, they'll be a very difficult first-round out. Getting to that point is the problem.
Mike D'Antoni has said the Knicks are a potential championship team with Chandler on the roster. If he's as wrong as the stat folks think he is … he's pretty certain not to be the Knicks' coach next year.