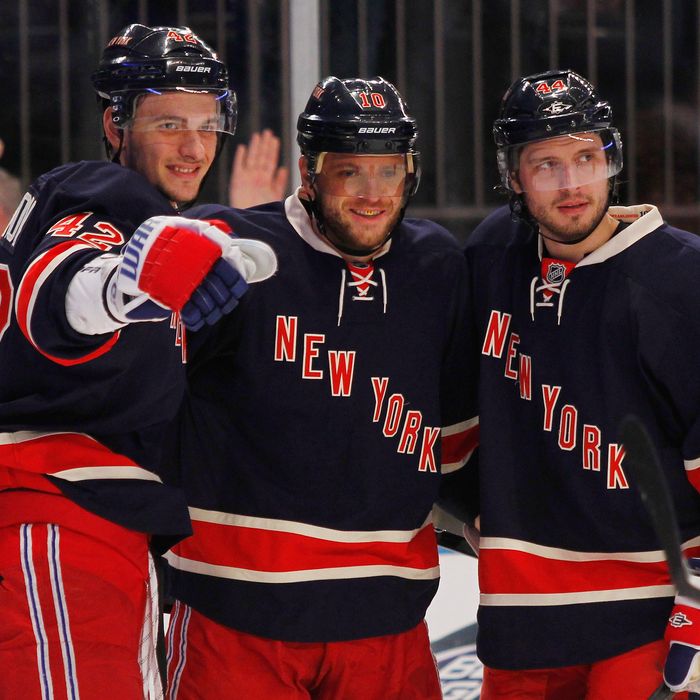 Artem Anisimov, Marian Gaborik, and Steve Eminger celebrate a goal last night.
Today seems like a good time to point out the beginning of an article from back in 2009, published shortly after John Tortorella took over as Rangers coach:
The Rangers didn't have a morning skate Thursday. They were too tired. After his debut as Rangers coach the night before in Toronto, John Tortorella said he was concerned about the team's conditioning, and they looked tired in the third period.
How times have changed. Tortorella demands that his teams be well-conditioned, and his notorious training camp endurance test forces his players to stay in shape throughout the summer. The result, now that Tortorella has been able to install his own system here, is a team that has its legs in the third periods of games, not to mention one that can maintain high energy, even when the schedule requires them to play on back-to-back nights.
And that's what happened last night. The Rangers had played and won in Buffalo on Saturday night, and last night played in their third game in four nights, just like the visiting Florida Panthers. But it was the Rangers who controlled play last night, scoring six times off Jose Theodore before he was replaced to start the third period, and cruising to a 6-1 victory. The Panthers are one of the better teams in the East right now — they lead the Southeast Division by six points — and still the Rangers turned in one of their more impressive efforts of the season. With the win, the Rangers improved to 3-0-1 in the second halves of back-to-back games, a night after improving to 3-0-1 in the first halves.
The Rangers' stellar conditioning is hardly the only reason this year's team is playing well, nor is it the only reason they've been steadily improving for the past couple of years. But over the course of a grueling NHL season, it's most definitely an important factor.