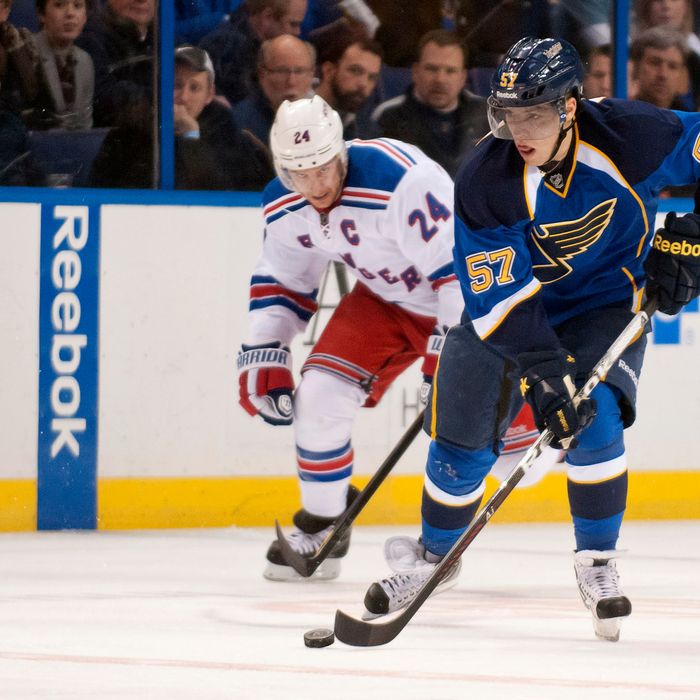 David Perron of the Blues, and Ryan Callahan of the Rangers.
Last night's Rangers game wasn't a total loss for viewers here in New York, because a game against the Blues means a few minutes in the MSG booth with Hall of Fame broadcaster John Davidson, and that's always a welcome treat. On the ice, though, the Rangers appear to be cooling off after an impressive stretch in which they lost just twice from October 31 through December 3.
The Rangers are 2-3-1 in their last six games, and last night was a rough night all around: The Blues consistently outworked the Rangers along the boards, and St. Louis jumped out to an early 2-0 lead en route to the 4-1 win. Brad Richards, in particular, had a night to forget: He lost 19 of 23 faceoffs, and found himself nailed to the bench for a stretch after his line was on the ice for both of the early St. Louis goals. The blue-collar Rangers are typically comfortable in games like this, but St. Louis is an especially strong defensive team, and has been playing well since Ken Hitchcock took over as head coach last month.
Wednesday night's season premiere of HBO's 24/7 has us all the more excited to see how the Rangers' games these days will be portrayed on the show. Here's a prediction, though: Assuming producers don't opt to just let Ilya Bryzgalov talk for the entire hour about whatever happens to be on his mind, the story of Sean Avery — and Erik Christensen, and perhaps even Mike Rupp — will get some time next week. The last game featured on this week's show was Saturday night's win in Buffalo, which presumably means the first game in next week's episode will be the rout of the Panthers the following night. In that game, Avery was scratched in favor of Christensen, a softer (and less popular) player whose biggest asset is his effectiveness in the shootout. Avery hasn't played since, and with Rupp getting closer to returning to the lineup, he'll have an even harder time being one of John Tortorella's twelve forwards.
The show has already set up Avery's backstory (or at least, the part of it that involved him going to Hartford earlier in the season). And while he's not necessarily the most important player on this team — remember, we're talking essentially about the 18th skater on the roster — he's certainly one of the more compelling. The Rangers lackluster play over the past couple of games might lead to some fascinating TV — some of last year's best 24/7 moments came while the Capitals were struggling — but one of the best made-for-TV storylines might involve decisions being made before the puck is even dropped.