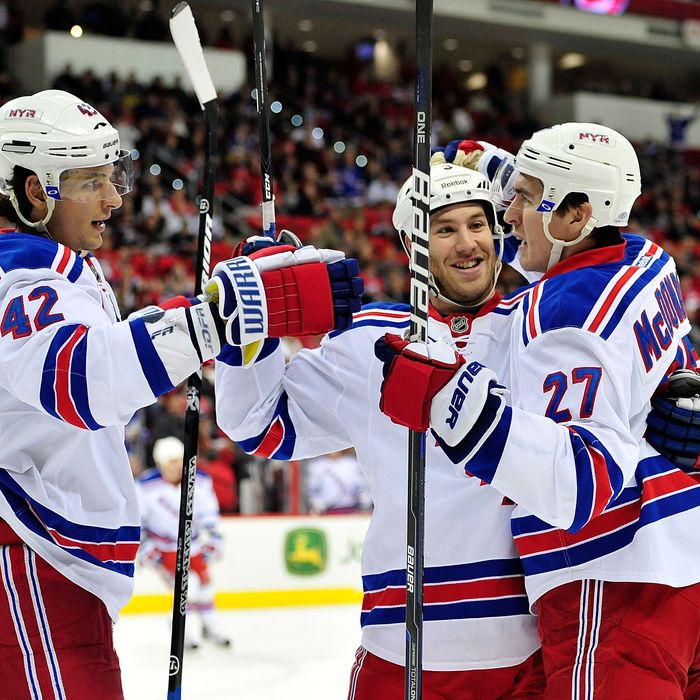 The Rangers celebrate a goal last night.
The Rangers won again last night, this time with a 5-3 score against the last-place Hurricanes. That's eleven wins in thirteen games for the Rangers, and it's their fourth straight victory after losses to Montreal and Florida. Perhaps the question of whether or not this is an elite team can't be answered in the first week of December, but this much we're sure about: This team is a pleasure to watch. Not all of the wins during this stretch have come easily (or looked pretty), but there's been an awful lot to like over the past few weeks.
Some of those things have been pointed out here and elsewhere for a while now: How Marian Gaborik has once again been the dynamic player the Rangers need him to be, for instance, or how well the duo of Dan Girardi and Ryan McDonagh have played with Marc Staal out of the lineup. But there's also the way that Carl Hagelin and John Mitchell have fit seamlessly into the team. (Hagelin's skating ability has especially stood out.) Or the way that Sean Avery has contributed since returning to the NHL, even while getting limited minutes. (He scored his third goal in eleven games last night; last year, he scored just three all season.)
Then there's the way the Rangers protected their lead in the final minutes last night. As Scotty Hockey points out, Gaborik — a player primarily known for his offense — stood out at the end of the game, sliding to clear a puck out of the Rangers' zone. And then there were the blocked shots. Obviously, that this team blocks a lot of shots is nothing new: Last year, they blocked the fourth most in the league. But it's nonetheless the kind of thing that requires, to use a Torts-ism, balls as big as the building.
And so late in the game, two players sacrificed their bodies for the greater good of the team: In a pair of scary moments, Mitchell was hit with a puck just above the eye (and skated off under his own power), while Derek Stepan had to be helped off the ice after blocking a shot with his ankle. (Mitchell needed seven stitches, but was okay and even joked about the play after the game; Stepan, meanwhile, returned to the game.) And while this team learned last year that blocking shots can have unfortunate consequences — see, for example, Ryan Callahan's injury against Boston late in the season — it's also a sign that they've totally bought into John Tortorella's system. And right now, that system is working as well as it has in Tortorella's time in New York.