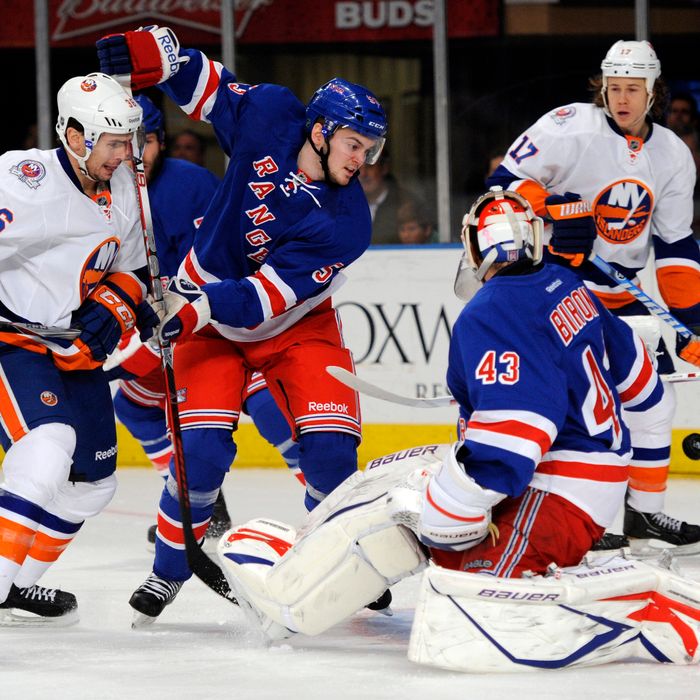 Martin Biron, last night.
The Rangers beat the Islanders, 4-2, at the Garden last night, and the win makes three straight for a Rangers team that currently sits just two points behind the conference-leading Flyers. Which means that a regulation win over Philadelphia tonight, coupled with a Bruins loss, would put the Rangers atop the Eastern Conference standings heading into the Christmas break. Obviously, this only means so much in December, when there's still plenty of hockey to be played, but it would nevertheless be a nice little holiday present for fans, wouldn't it?
Last night's game brought a rare Brandon Dubinsky goal — he can be a streaky scorer, so one hopes it won't be another six weeks until he finds the net again — as well as yet another strong performance from Martin Biron, who's now 7-1 with a save percentage nearly identical to Henrik Lundqvist's, not to mention an outstanding 1.84 goals against average. (Michael Del Zotto had a nice night as well — one that included his fourth goal of the season, plus some physical play in his own end.) Like many Rangers wins, it wasn't perfect — they were sloppy with the puck at times, and if not for some key Biron saves, the game could have turned out differently — but it's another two points in this weeklong stretch in which they'll play four straight games against Atlantic Division foes.
The third of those games is tonight against the Flyers in a tune-up for the Winter Classic on January 2. There's already some bad blood between these teams, and so with first place in the division (and perhaps even the conference) on the line — and with HBO's cameras rolling to capture every last chirp — that game promises to be a lot of fun.