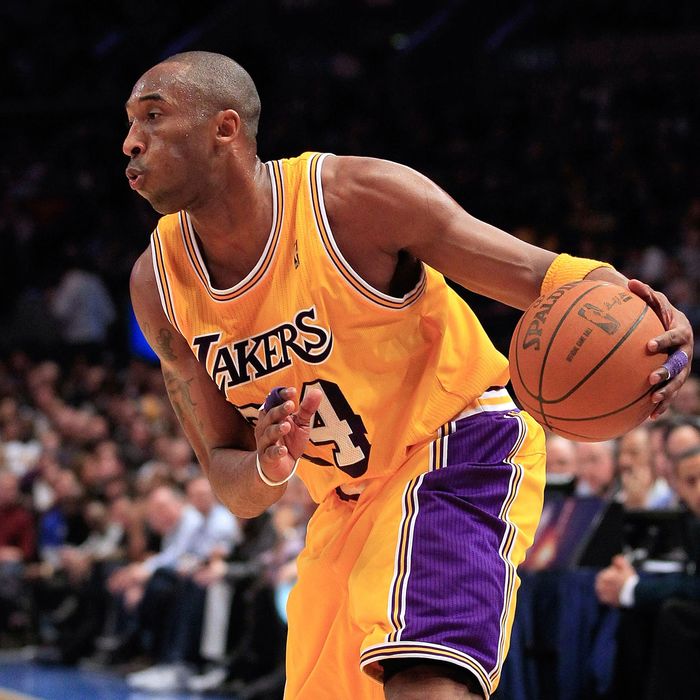 We, along with five other New York magazine staffers and associates, share Knicks season tickets. It's our one real indulgence; we have always just wanted to call ourselves "season-ticket holders." It sounds so adult. Next week, the six of us will get together and split up the tickets the old-fashioned, American athletic way: We'll have a draft.
We have specific parameters about this. The six of us are all friendly, but we'd also like to be able to go to games with people other than each other, so we get two tickets for each game we choose. But we also want to make sure nobody gets shut out of the most desirable games, so we siphon off the three most anticipated games and all just take a ticket apiece for those. Last year, the big games were the two visits by the Heat and the one visit by the Lakers. Every other game: two seats per person. Make sense?
Before the draft, we at The Sports Section made a ranking of every Knicks home game in order of our own personal preference. This list was specific to us — for example, we made sure to try to see former Illini Deron Williams play, and we made sure to try to grab one of the Bulls' games, because a good friend of ours is a diehard Bulls fan — and specific to our schedule (we couldn't go to the game the same day as the AFC Championship game, for example, in case the Jets ended up in it, which they did).
But there's a general pecking order to this, so we figured, as a thought experiment, we'd rank this year's 33 Madison Square Garden home games by their appeal. We won't account for our schedule, but we will account for convenience and accessibility (weekday afternoon games, Christmas Day, so on). We just hope our five fellow ticket-holders don't use this against us in our draft next week.
Anyway, here goes:
April 15, vs. Miami. Always a trip when LeBron's in town, and this is his only visit this season.
February 10, vs. L.A. Lakers. It's Kobe. They're not the champs, but it's still Kobe, and it's still the Lakers.
April 17, vs. Boston. The next-to-last home game of the year, and it could settle the Atlantic Division championship.
April 25, vs. L.A. Clippers. Chris Paul and Blake Griffin, after a full year playing together (this is the last regular-season home game)? Yes, please.
February 2, vs. Chicago. These games are always terrific …
April 8, vs. Chicago. … particularly when everyone's jostling for playoff position.
January 21, vs. Denver. Carmelo won't travel to Denver this year, but you will get to see Danilo, Mozgov, and the gang.
February 19, vs. Dallas. They are the defending champs, after all.
January 16, vs. Orlando. Dwight Howard should still be playing for them, though he might be sulking. Plus, this is the MLK Day game, and something crazy always happens at the MLK Day game.
February 20, vs. New Jersey. The last Nets Garden visit until they're based in Brooklyn.
January 18, vs. Phoenix. A nice opportunity to let Steve Nash know you wouldn't mind having him around next year.
March 28, vs. Orlando. Will Howard still be a Magic by then?
December 25, vs. Boston. Your religion probably dictates where this game shows up on the list. Probably should be higher anyway, since it's the first game of the NBA season in total.
April 13, vs. Washington. John Wall's one visit to town this year.
January 2, vs. Toronto. The first home game after Christmas. Downside: You'll miss the Rose Bowl.
March 31, vs. Cleveland. Last home game until baseball season begins. Also: You're certain to see a win.
January 11, vs. Philadelphia. The Sixers are always a little better than everyone thinks they are.
January 20, vs. Milwaukee. The Bucks have given the Knicks fits in recent years.
March 16, vs. Indiana. The lone visit this year from Parks and Recreation co-star Roy Hibbert. (Detlef Schrempf not included.)
February 22, vs. Atlanta. The least exciting good team in the NBA.
February 15, vs. Sacramento. Jimmer fever! Plus, the Westminster Dog Show will have just ended, so there might be poop on the floor.
February 6, vs. Utah. We always like these games because they remind us there is a professional sports team in Utah.
January 9, vs. Charlotte. The second home game in a row against the Bobcats. You can spend the evening making predictions about the New Hampshire primary taking place the next day.
February 4, vs. New Jersey. Probably should be higher, but this is the third game of one of those dreaded back-to-back-to-backs.
March 11, vs. Philadelphia. Think Evan Turner will be starting by this game?
February 17, vs. New Orleans. Got a lot less fun about sixteen hours ago.
February 29, vs. Cleveland. Because it's Leap Day, years later, no one will believe the ticket stub you show them is real.
March 14, vs.Portland.To think of what this franchise was poised to be just two or three years ago.
January 31, vs. Detroit. The Knicks are usually up for an inexplicable loss to Detroit once a year.
January 4, vs. Charlotte. Discuss the previous night's Iowa caucus!
March 26, vs. Milwaukee. Is it wrong to taunt the Bucks with Ryan Braun chants? Probably is.
March 24, vs. Detroit. Be very careful what words you use around Charlie Villanueva.
March 20, vs. Toronto. The Raptors still play.
Feel free to tell us how wrong this list is. We're pretty NBA-rusty, we confess.