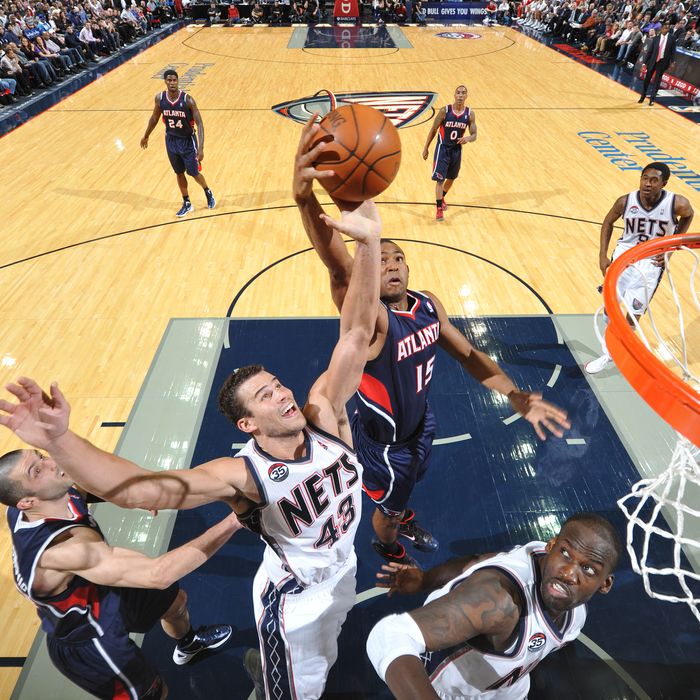 Apparently Kris Humphries plays basketball too.
Last night, the New Jersey Nets, in their final home opener in the Garden State, were just pounded by the Atlanta Hawks, 106-70. After a fun, if sloppy, opening-night win at Washington, the Nets were a flop from the get-go last night. The most interesting thing to happen was probably Kris Humphries being booed by his home fans, again, in the season opener. That guy is just having a rough few months.
Actually, that wasn't the strangest thing to happen. The strangest thing was the Newark fans chanting for Dwight Howard.
They announced a sellout crowd, an alleged 18,711 in attendance at the Prudential Center for the 35th and final season opener for the Nets in New Jersey Tuesday. And, late in the third quarter, those fans spoke with one voice:

"We want Dwight!'' they chanted. "We want Howard!''
That's referring, of course, to Dwight Howard, who wants out of Orlando and has put the Nets on the list of teams he'll accept a trade to. (Orlando has made it clear it doesn't want to trade him.) Obviously it makes sense that Nets fans would want Howard on their team. But it's not entirely clear why New Jersey Nets fans would care about Howard. If he comes to the team this year, it'll just be so he can bolt out of town as fast as the rest of the team can.
It's an odd year for the Nets. It's their last year in Jersey — even if they're having a difficult time figuring out exactly what number year that is — and they're in the odd position of preparing for a thrilling future while pretending the present doesn't exist. The team as currently constituted isn't all that good — particularly with Brook Lopez out for a month and a half — but it has a superstar in Deron Williams and the possibility of another in Howard. Of course, it's possible that they'll have neither next year, for the first year in Brooklyn. The fate of NBA franchises is always up in the air at any given moment, but the Nets, they're particularly crazy right now. It's difficult to tell what this team is.
For the magazine, I've been working on a piece about the plans behind the Nets' impending Brooklyn move. I'm saving my good stuff for the story, but I will say this: It's a little staggering how dramatically many more opportunities there will be for the team when they get to Brooklyn than there have been over the last 36 years in New Jersey. They're sauntering into a windfall. But they have to finish off this last year in Jersey, and hang on to Deron Williams, and maybe grab Howard, but not win too many games … and, well, there's just a lot happening. Particularly when, as far as I know, there isn't a single person on the planet who is currently, actively, a Brooklyn Nets fan. They're a concept. The New Jersey Nets are leaving, the Brooklyn Nets are coming, and they're going to be such different entities that this year is an illusion, one intended to disappear at the earliest opportunity. It's tough to know what to think about the 2011-12 New Jersey Nets, as a New Yorker, as a basketball observer.  The only logical response, we suppose, is to just boo Kris Humphries and figure out the rest later.