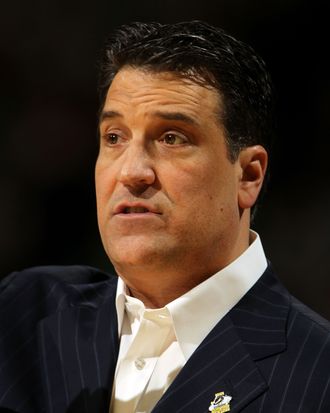 There are two certainties the week after Christmas: great shopping deals for friends and family with January birthdays, and the beginning of major-BCS conference play. St. John's opens its Big East slate against Providence at Carnesecca Arena tonight and is in need of a boost. The Red Storm are 6-5, have already lost their starting point guard, and are still missing their head coach. A loss tonight could signal a rough start to conference play for SJU; four of their first six opponents are ranked within the AP's top 25.
In the spirit of our November post, here are four areas to keep an eye out for over SJU's eighteen-game Big East schedule.
Nurideen who?
After only nine games, highly touted JC guard Nurideen Lindsey, who has been the Red Storm's leading scorer, decided to transfer. SJU regrouped with two wins against Fordham and Texas-Pan American, and while those two teams aren't exactly "quality opponents," it's interesting that the offense, and particularly the defense, have actually improved without Lindsey in the lineup. Before Lindsey left Queens, St. John's was scoring .99 points per possession (PPP takes into account attempted field goals, free throws, and turnovers and is a useful way to judge a team's efficiency). Without Lindsey, SJU's PPP is .96, but, if one were to measure the offense's efficiency without turnovers (since Lindsey was a sieve, committing over four turnovers a game), their PPP shoots to 1.19. St. John's has especially improved on the defensive side of the ball; they are allowing opponents to score .88 points per possession, a drastic difference to the 1.01 PPP with Lindsey on the floor. We must note, though, that before bestowing the Johnnies with the "defense of the year" crown, this is a small sample size against two of the nation's worst offenses.
But how is the zone coming along?
Before the season started, we were intrigued with how long it would take the coaching staff to teach the youngest team in the program's history the vaunted 'match-up zone.' So far, the Johnnies are still learning. Opponents are connecting on 44 percent of their two-point field goals, a percentage that puts SJU in the bottom half of the Big East. From three-point land, SJU is a bit more stringent (34 percent) — a vast improvement from the 2011 season. However, on a team made up of four freshmen, one JC transfer, and a lone upperclassman, SJU has shown the ability to defend without fouling. According to Synergy Sports, the Red Storm has defended over 600 half-court possessions and less than a quarter of those have resulted in free throws; in fact, SJU's defensive free throw rate is second-best in the Big East.
New arrival's impact.
Tonight will be Amir Garrett's second game in a St. John's uniform, and though SJU desperately needs depth, interim head coach Mike Dunlap insists on bringing the wing along slowly. In the team's pregame interviews, Dunlap explained the coaching staff is keeping their instructions simple for the freshman. Garrett has admitted that he is still learning and the smartest thing he has learned so far is to always listen to Dunlap. Garrett maintains he still needs a few weeks to catch up to his teammates, but he immediately gives St. John's an extra body in the paint, and his addition should make the match-up zone even tougher for opponents. At 6-foot-7, it's hard to pass over, or through, Garrett. St. John's excels in transition — at least 18 percent of its offensive possessions have been fast breaks — and perhaps the simplest way for Garrett to progress is to get out in the open court.
Has the team missed Steve Lavin?
This is the second season (Arizona, 2008-09) in which circumstances have forced Dunlap to oversee head coaching responsibilities, and while the squad has progressed ably, he is quick to admit St. John's needs Steve Lavin back on the sidelines: "There's been a degree of the unknown with this group …  they haven't had their leader [Lavin] at every practice." Lavin is still recovering from prostate surgery, and it is unknown when he will be back on the sidelines. Dunlap is the architect behind the match-up zone, but without Lavin, SJU is not the squad that forced turnovers at a rate of almost one of every four possessions in 2011.