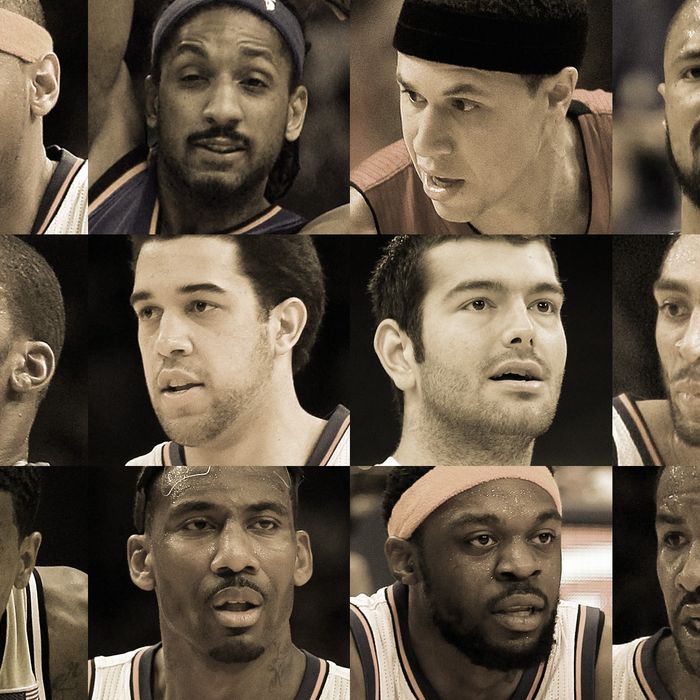 Boy, the first few days of NBA free agency have been more fun than anyone could have possibly imagined. Between the NFL's crazed free-agent frenzy in August and the current NBA madness, it's now obvious that every sports league should stage some sort of work stoppage so that all roster moves can be made in the span of a week, with the transaction wire looking like a stock ticker, or maybe one of those old-time pianos that plays itself. It's been a wild, surreal week in the NBA, and the Knicks have been right in the middle of it. It's been difficult to remember who, in fact, is currently on this team. So let's take a gander at the roster.
Now, the Knicks still have some moves to go, particularly the oft-discussed, somewhat nonsensical (if you ask us) potential trade with Atlanta that would bring Jamal Crawford to town and send Bill Walker, Renaldo Balkman, and (maybe) Toney Douglas packing. If it includes Douglas, who isn't the ideal point guard but who could work with this team and (unlike Crawford) play defense, the deal seems excessive. Also, if they make this trade, the Knicks will be acting as if having one great defensive player (Tyson Chandler) makes it entirely unnecessary to have anybody else who can even slightly guard. (Chandler can guard all five positions at once, right? Cool, thanks.) The Mavs' J.J. Berea would have made more sense, but he's about to sign with Minnesota.
So, assuming the Crawford trade doesn't happen, there's what the Knicks roster looks like:
Guards
Mike Bibby
Toney Douglas
Landry Fields
Iman Shumpert
Bill Walker

Forwards
Carmelo Anthony
Renaldo Balkman
Devin Green
Jared Jeffries
Amar'e Stoudemire
Shawne Williams (if they can get him to sign)
Centers
Tyson Chandler
Josh Harrellson
Chris Hunter
Jerome Jordan
Is that a championship team? If Toney Douglas or Iman Shumpert turn into Chris Paul or something, yes, but otherwise: It doesn't look like it. It does look like a team that's potentially better than the Celtics in the Atlantic, and one of the top four teams in the East. But better than Miami? Better than Chicago? Highly doubtful. However, there might be more moves left to go — though this team has to be out of money soon, yes? — and players like Douglas, Shumpert, or even Fields or Jordan could make big leaps forward.
We don't mean to be skeptical: It's really quite exciting to see a Knicks team this talented, considering how much we were trying to talk ourselves into "Tracy McGrady, Knicks superstar" a couple of years ago. And this is without question the best Knicks team in more than a decade. After all, this is a franchise that hasn't won a playoff game in more than a decade. But the excitement level appears to have reached a "the Knicks are title contenders!" pitch. We're pretty sure they're not there yet.
Not that this isn't going to be fun, already. Not that we absolutely cannot wait.