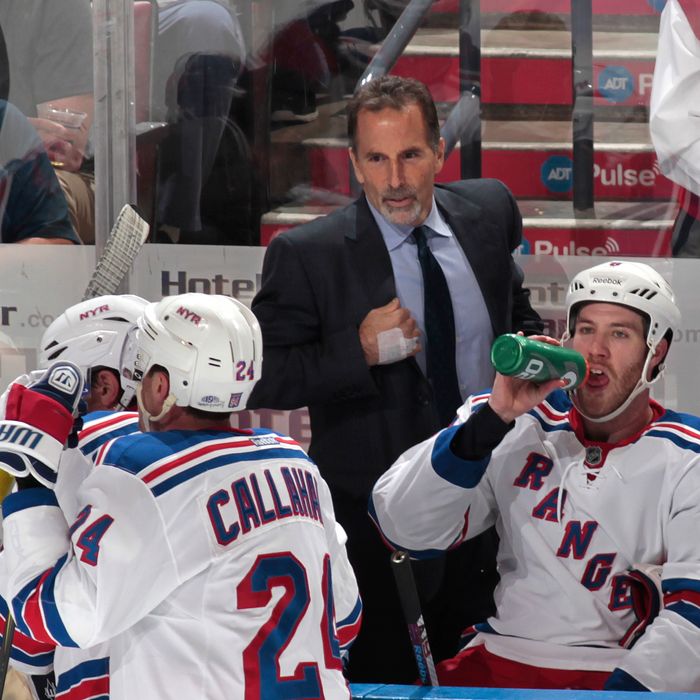 Beginning with tonight's home game against the Maple Leafs, HBO's cameras will be following the Rangers full-time through the Winter Classic for the network's 24/7 series. If the shows are even half as good as last year's edition showcasing the Penguins and Capitals, it'll be appointment viewing. And we have reason to believe this year's version — which will give us an all-access look at both the Rangers and the Flyers — will be every bit as compelling, if not even more so. Here, now, ten things we're looking forward to.
In no particular order:
1. John Tortorella's locker-room speeches after a loss, or even a rough period. One of the reasons Bruce Boudreau's performance on last year's show was so memorable was that he had plenty to complain about: The Caps lost eight straight games at one point last December. The Rangers, meanwhile, have been red-hot of late, and though they haven't been flawless, they've done plenty of things well en route to twelve wins in fourteen games. John Tortorella says viewers shouldn't necessarily expect to see a tirade at some point over the next month, but what happens if the Rangers play a couple of sloppy periods, or even a sluggish game or two? In this classic scene from last year, Boudreau dropped fifteen F-bombs in under 90 seconds. Your move, Torts.
2. Brandon Dubinsky vs. Jody Shelley. During the twelve-minute preview HBO released on November 25, Shelley, a former Ranger and current Flyer, called Dubinsky a "weasel." Dubinsky then fired back: "He's usually just yapping from the bench, and I guess now he's yapping from behind the video camera. So that's about all I have to say." Actually, he had more to say: "Jody Shelley — it won't be long before he's out of the league, because he's a terrible hockey player." Shelley's been a scratch in each of Philly's last two games, but we do hope he's in the lineup when these two teams next meet on December 23.

3. Sean Avery vs. Wayne Simmonds. These two made headlines when, back in the preseason, Avery accused Simmonds of directing a homophobic slur at him. (Video seemed to confirm Avery's accusation, though Simmonds was not disciplined by the league.) The two of them have faced each other in a game since, so perhaps that incident won't be explicitly mentioned on the ice when the two teams meet. But if Avery's going to focus his attention on one Flyer in particular, there's a good chance it'll be Simmonds.

4. Actually, make that Sean Avery vs. anybody. We've already gotten some idea over the last few months what an uncensored Sean Avery sounds like on the ice, courtesy of this clip (with some NSFW audio) from a preseason game against the Flyers:
So, yeah, that's Avery saying that if Philly's Tom Sestito doesn't settle down, he'll go after Flyers star Claude Giroux. (Or, in Avery's words: "Get him under control or I'm going to fucking kill Giroux.") And, just to reiterate, that happened during the preseason. (Needless to say, there's some bad blood between these teams.) One of our favorite things about 24/7  last year was hearing what was said when two guys dropped the gloves, but we'd be lying if we said we weren't just as interested in what comes out of Avery's mouth, even if a fight doesn't necessarily ensue.

5. The chance, perhaps, to hear Glen Sather talk. Sather, for the most part, stays out of the public eye. But we hope 24/7 includes at least a few moments with the Rangers GM. We find Sather to be rather fascinating these days: After years of listening to nightly "Fire Sather" chants, he's built a very good and extremely likable team. Plus, he stole the show at the press conference to officially announce the Winter Classic back in September, riling up the Philly crowd by playfully guaranteeing not just a win in the game, but also a Stanley Cup for the Rangers and a World Series for the Yankees.
6. The chance, perhaps, to see Tortorella exchange words with Larry Brooks of the Post. We actually think this one's a long shot, but these two have a history going back to Tortorella's days with the Lightning. And they've had their moments in New York, too: See here, for instance, or here. (There was also a minor back-and-forth just last week.) And though we suppose the linked clips above indicate we don't necessarily need HBO's cameras to capture any exchanges these two might have, it's nice to know that if something does go down, we'll be able to see the whole thing, unedited.

7. The chance to hear a candid Jaromir Jagr. The Philadelphia winger has been in this league a long time, and he's now been on both sides of the Flyers-Rangers rivalry. And so we hope the show devotes a nice chunk of time to Jagr, one of the great players of his era who we'd imagine still has some fans here in New York. Bonus points if he says something even half as funny as the line in this video about not needing to buy a Halloween mask after losing some teeth in a late-October game back in 2007.
8. The comic stylings of Dan Girardi. For our money, Girardi had one of the best lines in the twelve-minute 24/7 preview when he said the following with a straight face: "Having these cameras around won't be any different for me. That's my usual life every day. You know, paparazzi and stuff like that." He, of course, then said he was kidding, but Pat Leonard of the News today tells readers that Girardi will surprise viewers with his sense of humor. Said Ryan Callahan in that post, about Girardi: "When you get to know him, he's sarcastic and has his little remarks, and I think that'll come out in the HBO series."

9. A look, perhaps, at how John Tortorella makes up his lines. Last season, we got a look at some of the day-to-day business of an NHL coach when cameras were rolling in a player evaluation meeting between Penguins coach Dan Bylsma and GM Ray Shero. This time around, we'd love to see a meeting between Tortorella and, say, assistant Mike Sullivan, in which the two tinker with/totally revamp the team's lines. Tortorella's constant shuffling of his offensive combinations can be a little exhausting sometimes, but we'd be interested to see what goes into those decisions. Worth noting: The Rangers' lines have been pretty consistent over the past couple of weeks — they've been winning, after all — but we've seen enough of Torts to know that can't last forever.
10. Learning something new about this team. Of course, for as much as we're looking forward to seeing certain story lines continued — like Dubinsky vs. Shelley, for instance — we're bound to learn a few things about this Rangers team that we didn't expect at all. We'll see them at home with their families — here, for instance, is Pascal Dupuis from last year's show, saying good-bye to his kids before a road trip — and we'll see them at practice, where we can only hope we're treated to something as entertaining as Pittsburgh's "Mustache Boy" shootout competition from last year. We already know about the Broadway Hat — which is awarded to the top performer after each win by the previous recipient — but we're looking forward to seeing more of that sort of thing: the rituals and traditions that fans don't always know about. The show premieres on December 14, but in the meantime, if there's something else you're looking forward to — and we're sure we've left some things out — got ahead and let it be known in the comments.