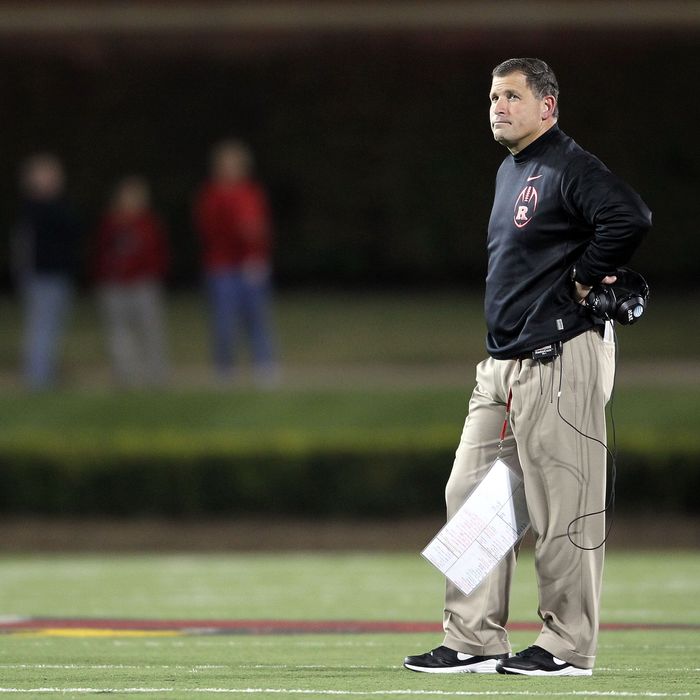 Rutgers head coach Greg Schiano.
New Yorkers needn't feel left out from the madness of college Bowl season. The second annual Pinstripe Bowl at Yankee Stadium will kick off at 3:20 p.m., and it's something of a home game for one of the teams. Rutgers, coming off a solid 8–4 season, will face 6–6 Iowa State in the sequel to Syracuse's closely contested 36 to 34 win over Kansas State last season. The game will be televised on ESPN.
Rutgers is a slight favorite in this one, though they seem to have a few major advantages. The de facto home crowd is obviously one, particularly once you consider that the Scarlet Knights have already played and won against Army at Yankee Stadium this season. Rutgers boasts one of college football's better defenses, and they're well equipped to stifle a subpar Cyclone offense both on the rush and in the secondary. Going the other way, Rutgers' star receiver Mohamed Sanu promises to give the Iowa State secondary all kinds of problems. Well, not really all kinds. Mostly problems about catching footballs and scoring touchdowns with them.
We'll also see a Rutgers team that's still reeling a bit from a disappointing loss to Connecticut in their last Big East game, and, as of this morning, wasn't sure who they'd start at quarterback. For a more thorough and intelligent breakdown of what to expect, I'd suggest heading here.
Meanwhile, if you were one of those that caught that Rutgers-Army game in November, note that heavier sod has been applied and the grass will not be a problem this time. I repeat: The grass will NOT be a problem. 
Just over an hour to kickoff! You don't have work or anything to do, right?