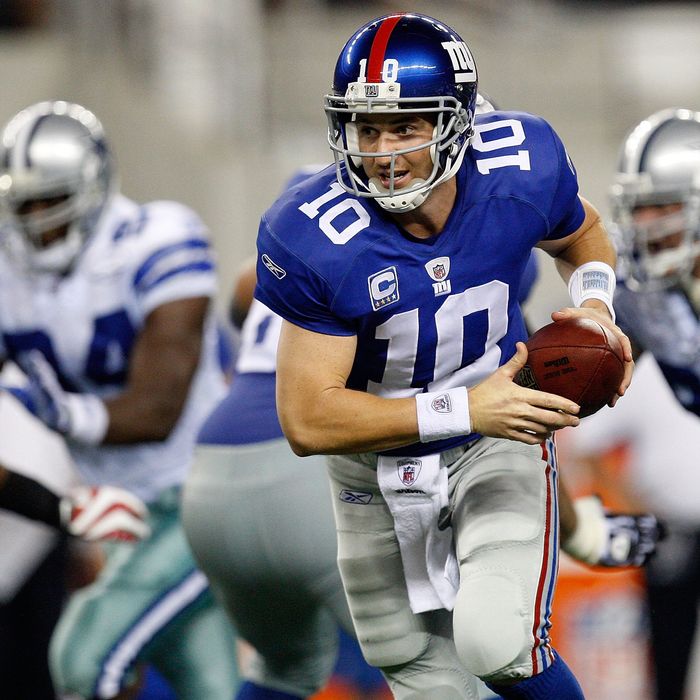 Just like the Jets, the Giants still control their own playoff destiny. And so considering they've lost four straight and boast just a .500 record through twelve games, they could be in worse shape right now. Thanks to their two remaining games against the Cowboys, if they win out, they're in. Even if they, say, lose to the Jets on Christmas Eve, they're in if they beat the Cowboys twice and take care of business against Washington, no matter what the Cowboys do in their other two games. Even at 6-6, earning a playoff berth isn't impossible. But while a loss on Sunday night wouldn't finish them off mathematically, it would make things a whole lot more difficult.
Which isn't to say that the Giants are exactly in good shape. We can fiddle with ESPN's Playoff Machine all day, but let's not kid ourselves: This Giants team hasn't played very good football over the past month. And so getting those wins we're casually inputting into the machine will not be so easy. The Giants improved in a couple of areas last week, and it's true that the most brutal part of their schedule is behind them, but it's too late for encouraging losses. We're past the point of moral victories. The Giants need to start winning.
Over the past five weeks — while the Giants were facing some of the best teams in the NFL (and also the Eagles) — the Cowboys weren't doing them any favors. At least not until last week, when after squeaking by with wins over Washington and Miami, Dallas saw their four-game winning streak come to an end against an Arizona team that's currently two games under .500. Which is how we've gotten where we are today: Dallas has a one-game lead in the NFC East. And if the Giants are going to get into the playoffs, it'll almost certainly be as a division winner.
Eli Manning and the Giants are 2-0 at Cowboys Stadium so far, for whatever that's worth. And both of those victories came on national television, for whatever that's worth. (Probably not much.) It's the biggest game of the Giants' season on Sunday. It's not technically a must-win. But it's close.