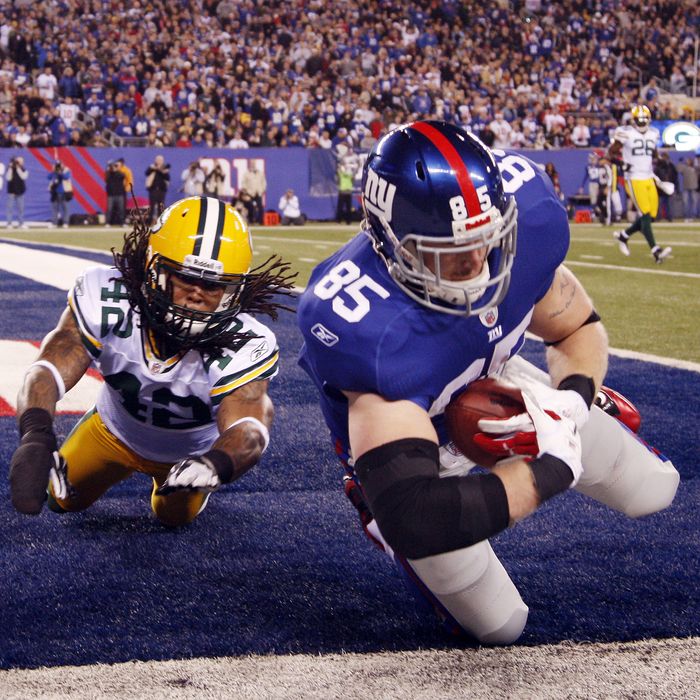 It's easy to understand why the Giants haven't gotten over their loss to the Packers on Sunday. When you fall within three points of upending an undefeated powerhouse, you're bound to mull over the little twists that could have changed the outcome. For the Giants, that includes a couple turnovers lost, some defensive breakdowns and, yes, a handful of questionable calls. Tom Coughlin, days after the fact, seems most publicly peeved about the latter. A first-quarter catch in the end zone by Jake Ballard would have put the Giants up 14-7, but he was ruled out of bounds on the sideline. Coughlin threw the challenge flag, but, upon review, the referees did not find sufficient evidence to overturn their original call. Facing fourth down, the Giants settled for a field goal. (Note that this constitutes a four-point swing in what ended up being a three-point game). 
Now, Coughlin's got a photo of the play that makes him "sick". Let's allow him to explain:
"He's in,'' Coughlin said of the picture he saw. "Don't ask me about that because I really don't know why. I challenged the Ballard thing, no question about that one. I wasn't going to not challenge that and have somebody tell me, 'You know he was in?'"
And it does appear that Coughlin's nausea is warranted. Take a look at the photo above (one of two that Ballard himself tweeted of the play), and you'll see that Ballard's knee does appear to be down within the blue in-bounds area of the end zone. Just to play devil's advocate, it's hard to tell, with the shadows and whatnot, whether or not Ballard's knee is actually dragging on the ground or gliding millimeters above it — something that could probably be determined by video, which is what the refs used to review the play. That said, you can probably see why Coughlin's tummy is gurgling.
So, there does seem to be legitimate reason for despair, but there's also no time for it. A win over the Packers would have been excellent, but a win this Sunday over the Cowboys is all the Giants stand to gain right now, so better to focus on that.