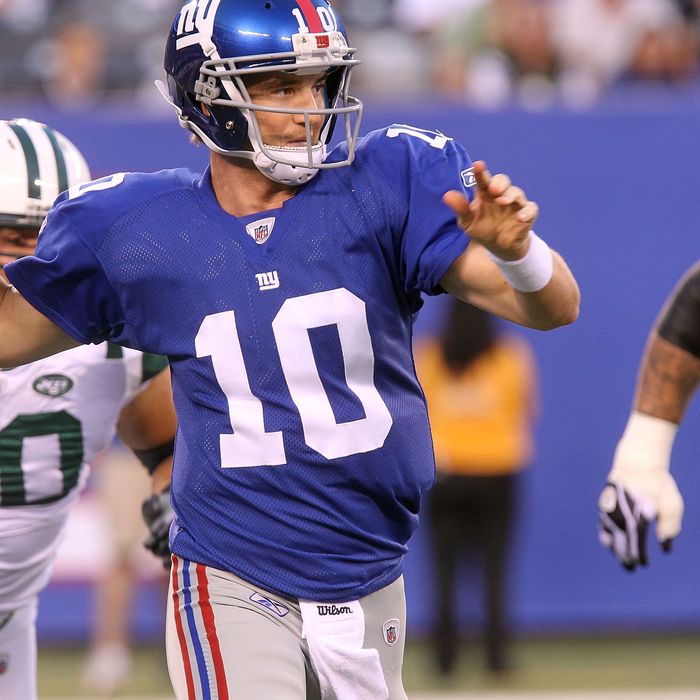 Eli Manning, during this year's Jets-Giants pre-season game.
Yes, a couple weeks back, Will wrote something on this blog about how tomorrow's Jets-Giants game wouldn't really matter. So let's set the record straight here: Tomorrow's game does, in fact, matter. Matters plenty, actually. It may not be win-tomorrow-and-you're-in for either team, and a loss doesn't necessarily mean elimination, but yeah, this game's a big one. The math backs that up, but you probably don't need numbers to tell you that no matter your allegiances here, you really don't want your team to lose tomorrow.
The cover of the Jets playbook this week includes a photo of Eli Manning getting hit during the 2010 Jets-Giants preseason game — a blow that bloodied Manning's face and required him to get twelve stitches. It's not hard to see the message here: Shutting down the Giants' quarterback will go a long way towards getting the Jets a victory, and thus an easier path to the playoffs. The Giants have had all sorts of problems this year — from defensive lapses to struggles in their running game — but Manning has put together perhaps his finest season. The Jets know they can't give him time to operate, but assuming they've watched some film from last Sunday's debacle against the Redskins, they also know Manning isn't superhuman. (Also, one imagines the Jets secondary — and Darrelle Revis, especially — would love to shut down the Giants receivers when Manning does throw the ball tomorrow.)
Speaking of that Giants running game — which currently ranks last in the NFL with 86.1 rushing yards per game — we'd like to quote a line from a Businessweek article that's been messing with our head all day, for it is simultaneously discouraging and also a little bit encouraging:
Since the current playoff format was introduced in 1990, only two teams reached the postseason with the league's worst rushing attack: the Arizona Cardinals in 2008 and the Indianapolis Colts in 2009. Both those teams advanced to the Super Bowl.
The Jets, meanwhile, are coming off an ugly loss of their own, in which the Eagles put up 45 points in a rout at Lincoln Financial Field. The Jets have been playing better than the Giants lately — they've won three of four, while the Giants have lost five of six — but they've also disappointed this season. Rex Ryan wants this week to be about demonstrating how the Jets own New York, but in reality, the Jets — just like the Giants — ought to be more concerned about bouncing back from a rough game with the playoff picture still in doubt. (We already covered various scenarios here and here, earlier in the week.)
At the tail end of what's been an awfully disappointing football season in this town, at least we know one of these teams will win tomorrow. (Well, unless there's a tie, which would actually be kind of appropriate. Perhaps all the mediocrity on both sidelines will cancel out, and neither will figure out how to win or lose.) That said, if this game's close in the fourth quarter, it could be a lot of fun. Manning's fourth-quarter credentials have been repeated many times this year, while Mark Sanchez has done some impressive things late in games as well.
The Jets are the home team tomorrow, which means they should have the majority of the fan support, not to mention their usual parking spaces. But in this StubHub world we live in, there will surely be fans of both teams in attendance. Only one of those fanbases will go home happy, however, and while the bragging rights will be nice, at this stage in the season, the win will be nicer.