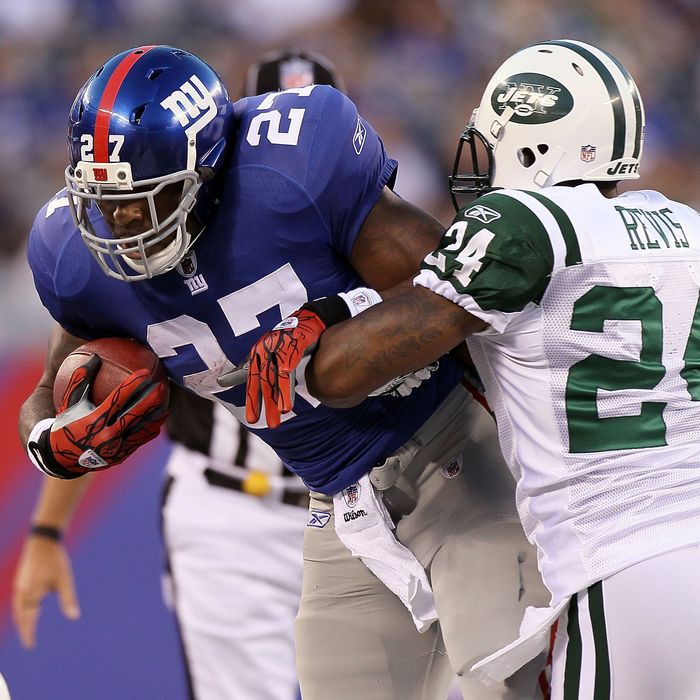 Brandon Jacobs and Darrelle Revis.
The Jets and Giants both suffered ugly losses on Sunday, and through fourteen games, they're both still fighting for their playoff lives. Both teams did some talking this week, but forget about all of that now: Kickoff for tomorrow's big game at MetLife Stadium is just twenty hours away. But what happened this week that didn't involve playoff odds?
We previewed the Knicks season, and also took a look at the Eastern Conference in general.
We said hello to Baron Davis and Steve Novak in advance of Sunday's Knicks opener.
The Rangers beat the Devils and the Islanders.
We recapped the second episode of HBO's 24/7: Flyers-Rangers.
The Knicks Power Rankings returned, with Carmelo Anthony claiming the preseason No. 1 spot.
And we said good-bye to the faux-Knicks.
We'll be back tomorrow night once the Jets-Giants game is over — and after we have a clearer idea of what the NFL playoff picture looks like. Otherwise, we'll be taking a long weekend, so we'll return to our regular schedule on Tuesday. Have a merry one, everybody!