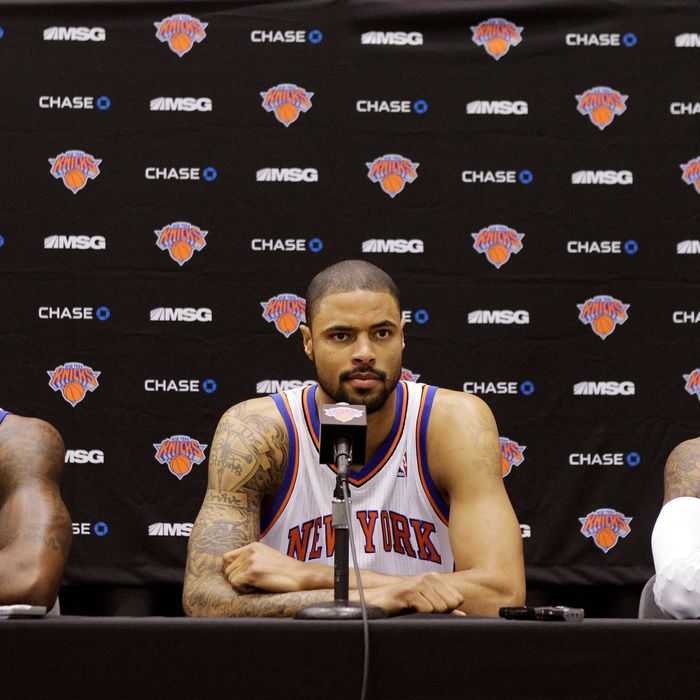 Amar'e Stoudemire, Tyson Chandler, and Carmelo Anthony.
Tyson Chandler is a Knick, and so are Mike Bibby and Jerome Jordan, but on the eve of the team's first preseason game, Glen Grunwald is still looking for pieces to fill out his roster. (Jamal Crawford, you see, landed in Portland, while Shawne Williams opted to sign with the Nets.) Still, thanks to the loaded frontcourt, this promises to be an exciting team to watch come Christmas Day, which is now just nine days away. But what happened this week that didn't involve ranking home games?
The Giants won a wild game at Cowboys Stadium, while the Jets topped the Redskins.
The Rangers beat the Panthers on Sunday night, but then lost two straight.
We wondered if the Rangers have been playing to the HBO cameras. Meanwhile, the season debut of 24/7 made a star of Ryan Callahan's grandmother.
Chris Paul was traded to the Clippers, while the Dwight Howard trade talks ceased (for now at least).
And we checked in with former Knick Charles Smith.
That's it for us. Have a great weekend.