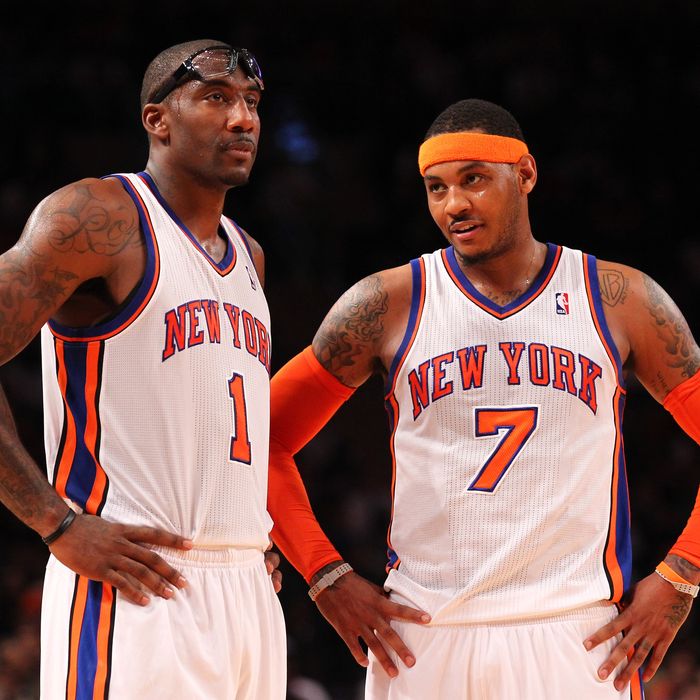 Time to do it, gentlemen.
So much has happened since then that it seems like longer, but it really has been just over a year since Amar'e Stoudemire came to the Knicks, giving them an identity other than "Isiah Thomas's demented, flailing science project" for the first time in a decade. Since then, the whole roster has been turned over — only four players who appeared in last year's season opener are still on the team: Amar'e, Landry Fields, Toney Douglas, and Bill Walker — and there's two new All-Stars and no point guard and an expectation that this is a championship-caliber team. Hey, don't look at us: The coach, whose job might depend on it, said it himself.
The Knicks open their season on Christmas Day against the Boston Celtics, and in a truncated season that's sure to be crazy, it looms large already as an important game. They play the Celtics thrice this year, and considering they're the main (only) competition for the Atlantic Division championship, every one of these games counts. It seems reasonable to think the Knicks can reach that level. Some intelligent observers even think they might be among the seven best teams in the NBA.
On one hand: This is crazy! Last year at this time, the hope was just that the Knicks would have a chance of sneaking in the playoffs. Now we're talking about them as one of the three best teams in the East? Say what you will about Jim Dolan and the old Knicks dysfunction — and Isiah still hangs around, remember — but that's progress, folks. That's more than one could have conceivably imagined. This team has a puncher's chance. They really could compete for this. It happened fast.
On one hand: They darned well better compete for the whole deal. This has been a lot of work, putting the pieces together to unite two superstars and a defensive All-Star who can hide their deficiencies, and Carmelo Anthony, Amar'e Stoudemire and Tyson Chandler aren't getting any younger. You can make a strong argument that this year might be the Knicks' best shot. It's a shortened season— shades of 1999 — the league is unsettled and it's not like you're bringing in Chris Paul or Dwight Howard next year. This is the team the Knicks have committed to. So it might as well be now.
Which is why, more than anything, this year is gonna feel like a referendum on coach Mike D'Antoni. The "he doesn't coach defense" grumble has been a meme since before he arrived, with the inevitable "that shit don't work in the playoffs" caveat. If the Knicks aren't able to advance in the playoffs this year, it probably won't be D'Antoni's fault — he's more flexible than he's given credit for, and we've always thought he did some of his best work in his first two years, with an empty roster — but it'll be perceived that way. D'Antoni is one of the NBA's true innovators, and when he came to NYC, his reputation was higher than it had ever been. It has degraded over the last three years, fairly or not. This year, we get to find out if D'Antoni can pull this ragtag group together and make Knicks history. If he doesn't, he probably won't be around to see what happens next.
The Knicks begin their most fascinating, promising season in more than a decade on Sunday. We cannot wait to see how it turns out. This is the fun part. This is what we'd all been waiting for.