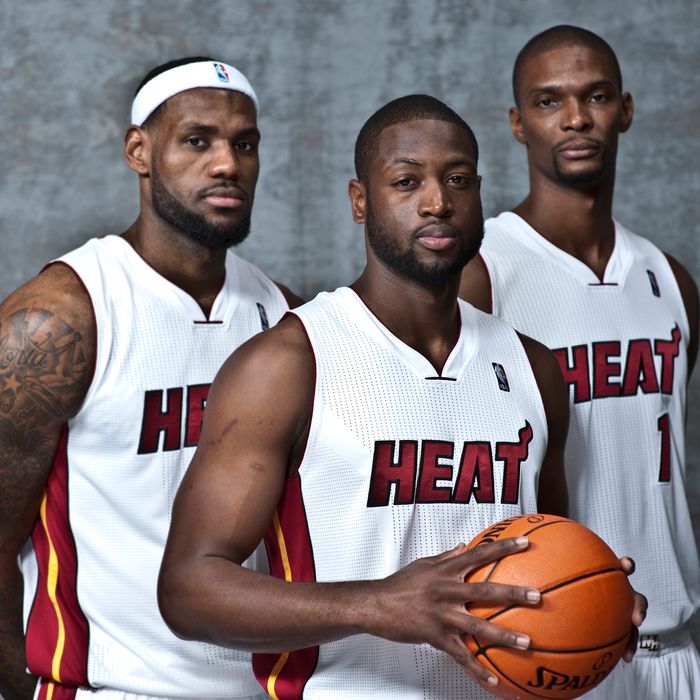 All right, the NBA season starts on Sunday, so it's time to start getting serious about this. For the first time since Mike D'Antoni and Donnie Walsh began remaking the Knicks, the team is expected to not only make the playoffs, but advance. That's all going to depend on the competition in the Eastern Conference. So we dug through John Hollinger's predictions and Basketball Prospectus and whatever else we could find, and decided to do our own. (We're not bothering with the Western Conference. Just assume whoever wins the East gets Oklahoma City.) So here goes. Please don't bring this post back up in April.
15. Toronto Raptors.
NBA teams have become a lot smarter about recognizing there's little value to a No. 8 or No. 9 finish in the conference: Either win the whole shebang, or bottom out. So there are several teams in the Eastern Conference bottoming out this year. The Raptors seem likely to be the most successful at it.
14. Charlotte Bobcats.
As Bradford Doolittle points out in Basketball Prospectus, Michael Jordan has finally figured out that his team has to tank in order to ultimately compete or make it to a championship. That's precisely what it's going to do. Still, it'll be fun to watch Kemba Walker, and hey: BISMACK.
13. Cleveland Cavaliers.
It is far from certain that Kyrie Irving is going to turn into Derrick Rose anytime soon; the guy has only played a few more games than Andy Rautins in the last year. But at least it's something.
12. Detroit Pistons.
This team is way, way too old to be this bad.
11. Washington Wizards.
Of all the out-of-the-playoffs teams, this is the one we'd most love to see sneak into a No. 8 seed. Maybe John Wall can have a blowup  year and drag them that far. Regardless: They'll be fun, and man, those uniforms.
10. Atlanta Hawks.
This team absolutely reeks of a wheels-falling-off year. Last year might have been the highlight. It would not surprise us to see this team selling off veterans by the trade deadline and completely starting over next year.
9. Orlando Magic.
Speaking of which. Obviously, if Dwight Howard is with the team all season, they'll make the playoffs. But do you really think, come March 2012, he's with the Magic? We don't think so. Talk about bottoming out: If the Magic don't get a haul for Howard, they could disappear for a long, long time.
8. Philadelphia 76ers.
This is probably the ceiling for the Sixers over the next few years, thanks largely to crazy contracts with Elton Brand and Andre Iguodala, two distinct non-superstars. It'd be nice if Evan Turner blew up, but don't count on it.
7. New Jersey Nets.
Yeah, why not? Deron Williams will fight and claw by himself to get this team in the playoff chase, and that frontcourt is better than it's credited with being. More to the point: We think Dwight Howard is on this team by March, and if they're even close to the playoffs by then, he'll take them the rest of the way. What a nightmare first-round matchup.
6. Milwaukee Bucks.
Not nearly as bad as they played last year, and their offense should improve. They should have one solid surprise season like this one before everyone on the team starts trying to kill Scott Skiles.
5. Indiana Pacers.
The official Sleeper Team of The Sports Section. If this deep team could figure out a way to trade for a star without emptying the coffers, they could surprise everybody. Plus, Conseco Fieldhouse is just the best.
4. Boston Celtics.
To be honest: We're a little worried this is too high. Even one sustained injury to a star wrecks this team. It's all coming to an end soon, and it might just happen this year.
3. New York Knicks.
As much as we try to talk ourselves into Baron Davis as the solution — and as much as we generally like the idea of cheaper one-year rental point guards for this team (c'mon down in 2012-13, Steve Nash!) — we're a little concerned that expectations are too high for this season in particular. The Knicks' backcourt is still a legitimate problem, and unless Iman Shumpert is John Starks crossed with Jamal Crawford, we're not sure they can get there. But winning the Atlantic seems like more a probability than a possibility.
2. Chicago Bulls.
Richard Hamilton might be the stopgap solution at the two-guard? Maybe? The Knicks are going to try to muscle their way into the Bulls–Heat rivalry over the next decade, but we're not sure they'll get there. Get to know this team well, because come the Eastern Conference Finals, you'll be cheering for them like crazy.
1. Miami Heat.
Nothing really matters until the playoffs anyway. We don't expect them to be any more popular this year than they were last year. They'll win, win, win until deep in the playoffs … and then we'll know.