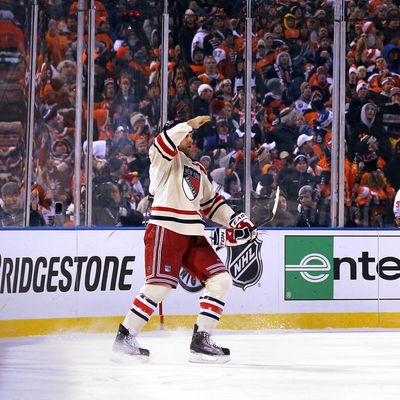 Like any good television series, last night's finale of 24/7 closed out the story lines of its main characters, though not necessarily in the way we'd have expected a few weeks ago, or even a few days ago. And so Ilya Bryzgalov, the man who taught us so much about the universe, and tigers, and Siberian huskies over the past few weeks, ended the show not by playing in the Winter Classic, but, thanks to recent struggles, by riding the bench. The most memorable line from a disappointed Bryzgalov came when he talked about how he'd prepare for the game: "Make sure I not forget early in the morning my thermos, put some nice tea, and enjoy the bench." Needless to say, this is a humangous change in his tone from week one.
On the Rangers side, meanwhile, John Tortorella has provided us with plenty of good television as well, from his expletive-filled locker-room speech in St. Louis to an outstanding scene last night in which a projector malfunctioned while the coach broke down video with the team. (You're not going to believe this, but Torts wasn't pleased.) But last night's episode didn't end with Tortorella's sarcastic comments about how the officiating in the Winter Classic was so bad that perhaps the refs and NBC were in cahoots. Instead, we see the coach embrace Liam Traynor, the 10-year-old Rangers fan with cerebral palsy we were introduced to in episode two. Both sides of the coach were on display last night: The foul-mouthed locker-room motivator we were hoping to see on this show, and the human side we weren't necessarily expecting.
And then there's Sean Avery. When word broke that the Rangers would play in the Winter Classic this year, Avery seemed like the kind of personality that would flourish on the show. But just as Avery has played a limited role on the Rangers this season, he played a limited role on 24/7. Last night, we spent a final few moments with Avery as he had breakfast with Brandon Prust. On Avery's mind during the meal: Getting a WiFi signal, and scoring free refills on his orange juice. (One gets the sense that the lack of colorful Avery quotes means he's been biting his lip these past few weeks.) Anyway, he'd shortly have much bigger problems: Before the teams took the ice against Florida, he was once again placed on waivers.
Anyway, 24/7 is always good for some high-quality chirps, but some of our favorite moments last night came from players conversing with their own teammates. We heard Prust tell his fellow Rangers that he would have pummeled Florida's Tomas Kopecky for sucker-punching Michael Del Zotto, but he didn't want to be suspended for the Winter Classic. We heard James van Riemsdyk tell his teammates that he intended to do the Artem Anisimov "gun-fire" celebration if he scored in the Winter Classic, in response to Mike Rupp doing the Jaromir Jagr salute. (Awesomely, neither van Riemsdyk nor any of his teammates would score from that point on, but Rupp would add his second goal of the day to tie the game.) And then there was Max Talbot, on the Flyers bench, announcing what happened to him on the previous shift: "Fucking spear there. Right in my fucking penis." Max Talbot has no need for euphemisms.
We also liked this juxtaposition of scenes: First, we see a giddy Ryan Callahan wake up a sleeping Marc Staal by brushing his face with a boom mic on the team plane. Cally and his teammates — well, everyone except Staal — seemed to be having a grand old time. "Boy," we thought to ourselves, "being a pro hockey player seems like so much fun." Then, one scene later, we see Wayne Simmonds take a wrist shot in the hand at practice, and then see Simmonds's reaction when he's told it'll be treated by puncturing a hole in his fingernail. That seemed less than fun.
Other notable moments from last night: The way "Rangers suck" replaced "cheese" when the Laviolette family took their New Year's Eve portrait, the uncomfortable sight of Jim Dolan in the Rangers locker room after the Winter Classic, and to drive home one final time that there is no love lost between these two teams, their decision not to shake hands after the final buzzer sounded.
A final montage served as a reminder of just how much this show packed into four hours, and how even if 24/7 felt a bit familiar in its second season, it's still pretty compelling television. The show ended just like it began: Black-and-white close-up shots of players and coaches. The final shot: A salute from Jagr. And so with that, we say farewell to the second season of 24/7. We do hope its back for a third.