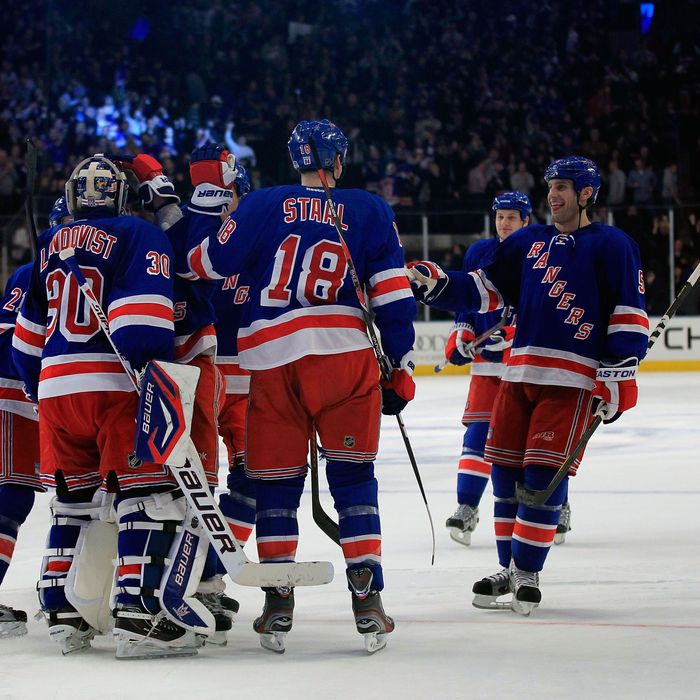 The Rangers celebrate their shootout victory last night.
The Rangers' shoot-out win over the Coyotes last night was their fifth consecutive victory and tenth in eleven games. This is the fourth time this season that the Rangers have put together a winning streak of at least five games, and through their first 40 games, the Rangers have the most points not just in the division, or the conference, but in the entire NHL. There's still a half-season remaining, of course, but we do hope Rangers fans have been enjoying the ride. Because again, you guys, the Rangers have the most points in the NHL. It's been rather fun so far.
Though the Rangers won last night's game, a Coyote provided what might have been the highlight of the night. Regardless of your allegiances, it's hard not to appreciate pretty much everything about Mike Smith's stop of Marian Gaborik's overtime penalty shot: There's the excitement in the crowd when Gaborik touches the puck, and the way the building goes quiet as he begins his move. Then there's a pretty darn good move by Gaborik, and of course, an even better stick save by a sprawling Smith. In case you haven't seen it yet — and if you have Time Warner Cable, it's possible you haven't — here's the save:
But Gaborik would get his revenge in the shoot-out: We like it when guys skate like they're being chased in the shoot-out, though in this case, it was Gaborik's hesitation at the face-off dots that froze Smith and kept his five-hole open long enough for Gaborik to bury the shot. The shoot-out would last six rounds — we'd begun to wonder how many rounds it would have to go for Michal Rozsival to get a chance — but Derek Stepan's goal and Henrik Lundqvist's fifth save on six shots would seal the victory for the Rangers. This team hasn't relied on the shoot-out very much this year — all but two of their wins have come during regulation or the five-minute overtime period — but to use a phrase that John Tortorella has repeated many times this year, one way or another, this team just keeps finding ways to win. More often, in fact, than any other team in the NHL.