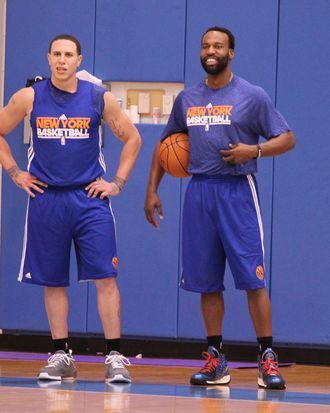 The cry of the ever-hopeful/ever-delusional subset of the Knicks fan base (we are a small minority; most Knicks fans' delusion is of a different variety) during this nauseating first quarter of the NBA season is that the Knicks are without a true point guard and, thus, cannot be properly appraised as a dysfunctional catastrophe just yet. We await emancipation from this unsightly basketball, and the only man around qualified to do that job is Baron Davis, the former All-Star point guard New York hastily scooped aboard before embarking upon this season's voyage. Davis came at a bargain mainly because he was suffering from a bulging disk in his back so meddlesome that he'd pondered retirement and, until very recently, that injury had prevented him from even practicing with the team. Today, at long last, he joined them.
Despite his finally being upright and mobile, Davis and the Knicks are wisely doing everything they can to subdue our expectations. After practice, Mike D'Antoni called Davis "rusty" and Davis himself said he "couldn't play dead right now in a movie, if I was asked to." Both are understandable, given that Davis has never been mistaken for a triathlete and, on top of that, has been mostly sedentary for months.
The hope is that Davis can debut within the next week — perhaps on Saturday in Houston — and play spot minutes before settling into a regular starting spot in the rotation. Davis's return to the court will require New York fans' least favorite thing — patience — and an understanding that he'll need time to develop a rapport with his teammates in much the same way Raymond Felton did last season (although one could argue that Baron has a much trickier set of teammates with which to mesh). Eventually, though, Davis will be depended upon to reinstate proper D'Antoni ball, resurrect Amar'e Stoudemire's offensive game, feed Tyson Chandler, and make sure Carmelo Anthony gets his usual touches as well. It's a perilously huge burden to be put on the sore back of a man past his prime, but it's pretty much all the hope we've got for a remotely successful season at this point. Excellent!