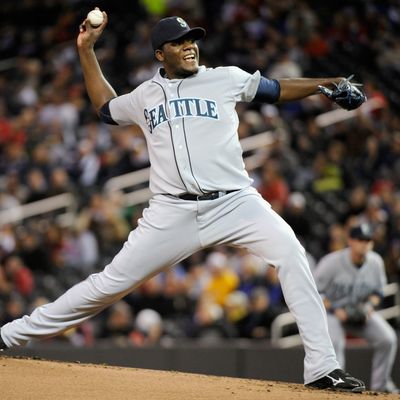 Oh, you're gonna like this guy.
When you left work on Friday, the Yankees were favored to win the 2012 American League East, but just barely. After all, the rotation still had A.J. Burnett and Freddy Garcia in it (maybe), and Ivan Nova was the No. 2 starter. The Yankees had been silent all off-season, mostly talking about how much money they were saving, and it was starting to look like they might not make any moves at all. Then, like ninjas, on Friday night, they struck.
In the span of about an hour, the Yankees had sent monster hitting prospect Jesus Montero and pitcher Hector Noesi to Seattle, bringing back flame-throwing right-hander Michael Pineda and 19-year-old prospect Jose Campos, and they had signed starter Hiroki Kuroda to a one-year, $10 million deal. It is sad to lose Montero, whose opposite field power was evident in abundance last year. But everything else about the moves are terrific. Suddenly, the Yankees rotation went from Sabathia–Nova–Garcia–Hughes–Burnett to Sabathia–Pineda–Kuroda–Nova–whoever survives among Garcia, Hughes, or Burnett. And they didn't go overpay someone like Edwin Jackson for three or four years. The Yankees are now the obvious favorites to win the AL East, and, all told, we'll put them up against the growing juggernauts in the AL West as well. (Though Texas might sign Prince Fielder any minute.)
It was a fantastic Friday night. So long, Montero, we'll miss you, but let's focus on the new guys. Thus, Ten Factoids About Your Newest New York Yankees.
1. Pineda is immediately the best Yankees strikeout pitcher. No, seriously: Better than Sabathia. Pineda had the third-best starter's strikeout rate in the majors last year, behind only Brandon Morrow and Justin Verlander. Pineda would be the ace for half the teams in baseball right now. Plus, he has impeccable control, especially for a young pitcher; as Fangraphs points out, more than two-thirds of the pitches he threw last year were strikes, remarkable for a rookie.
2. The Yankees now have the two of the three top pitchers in the Rookie of the Year voting from last year. Pineda, incorrectly, finished behind Nova in the voting. Don't expect the Yankees to get Jeremy Hellickson anytime soon, though.
3. The Yankees now have a pitcher from the 2011 All-Star Game. Sabathia didn't make it into the game, but Pineda did: He threw a perfect third inning last year in Arizona, and looked terrific doing it.
4. Pineda is going to be here a long time, and cheaply. He's not arbitration-eligible until 2014 and won't be an unrestricted free agent until 2017. He will be paid about $414,000 in 2012, roughly one-fortieth of what A.J. Burnett will make.
5. Pineda was rather popular in Seattle. This video might attest to that.
6. Kuroda is one of the boringly fantastic pitchers in baseball. Kuroda was ninth in the National League in ERA last year with a 3.07 mark in 202 innings. He is durable, consistent, and profoundly dull to watch. This is precisely what any team might want from their No. 3 starter.
7. Kuroda is a Japanese pitcher who didn't post. The Japanese posting system is bizarre, ultimately causing American teams to give money to Japanese teams rather than to the players themselves. (This is why the Rangers' Yu Darvish negotiations are taking so long and might not get settled.) When Kuroda left the Hiroshima Carp in 2007, though, he waited until his contract was up so he could have full free agency. That's why he got a big deal ($35 million for three years) from the Dodgers despite not having the big name of a Darvish or Matsuzaka.
8. The last postseason game the Cubs made it to, Kuroda eliminated them. Game three of the 2008 NLDS. This Cardinals fan just had to mention that.
9. The man has good genes. Kuroda's dad was a standout centerfielder in the Japanese leagues, and his mother was an Olympic shot-putter.
10. If you ever see Campos, you'll love him. Campos is considered one of the top young pitching prospects in baseball, but emphasis on the young: He's 19 and still has a long way to go before he even sniffs the majors. Pitchers that young are essentially lottery tickets. But he's tall and has a perfect pitcher's build: If he matures, the Yankees have yet another advantage over everybody else in a decade.

Plus: The Yankees might get to trade A.J. Burnett now. There's never a bad time to be a Yankees fan. But Friday night was a particularly good time.