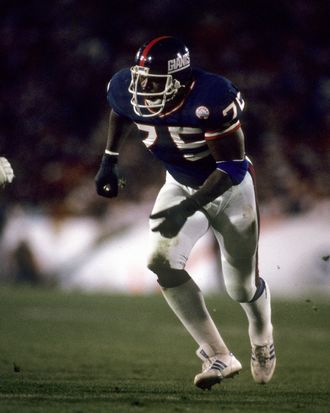 George Martin, in Super Bowl XXI.
George Martin played in 201 regular-season games in the NFL, all of them with the Giants. And one of the signature moments in his career came 25 years ago today, when he sacked John Elway in the end zone for a safety in Super Bowl XXI — a game the Giants would win to capture their first championship since the merger. Martin was an inaugural member of the Giants Ring of Honor, and today, he works as the executive director and president of the NFL Alumni Association, an organization that serves as an advocate for former players. He spoke with The Sports Section about winning the Super Bowl, walking across the country, and the upcoming Giants-Patriots game.
People must ask you about the Super Bowl against the Broncos all the time. Do you ever get tired of talking about it?
No, no, you never get tired of your accomplishments, particularly when they lead to excellence and you being crowned as world champions. No, I don't think any of us have ever gotten tired of being quizzed or asked about it or being in a position to reminisce about what happened out in Pasadena. It's something that I hope will last for the rest of our respective lives.
You sacked John Elway for a safety in that game. Have you ever spoken to Elway about that play or that game?
As a matter of fact, last year we were out at an event, and someone called me over to introduce me, just to say hello. And John was there, and [this person] was a friend of John Elway's, and he starts ribbing John. He goes, "John, you know, the greatest pass I ever saw you complete was to this guy right here, George Martin," which happened earlier in that year, that Super Bowl year, when we played the Denver Broncos at home, when I intercepted John for a 78-yard touchdown. So the guy was giving him a pretty hard time, and John laughed it off, he was good-natured about it, but it's not something I would ever try to rib him on. Trust me, there are many, many instances that people can recall the New York Giants and George Martin being the butt end of a joke, but I took it in lighthearted fun.
Like you said, you'd played the Broncos earlier in that season. Does having faced a team earlier in the season help one team or the other? How does it affect the preparation?
It's definitely an advantage — I think twofold. Number one, it gives coaches a definitive look at the opponent and they can make adjustments, particularly things may have hurt us in certain situations, and that's the genius of Bill Belichick. I always said, if there's any such thing as a football genius, in the defensive context, Bill Belichick is absolutely a football genius. He would make adjustments that just boggled our mind, because he just had this intuitive sense as to how to make either slight or major adjustments that wreak havoc on the offense. And I think it gave us a distinct advantage to have played Denver earlier that year and played them at home and, on top of that, beaten them, because psychologically I think you have a psychological edge over your opponent once you've already played them and beaten them. I think it did work to our advantage.
Do you have any plans for the 25th anniversary, like to meet up with any teammates or anything like that?
No, I'm traveling the day after; I'll be heading out to a chapter meeting in Tennessee, and then I come back, and then on Friday I think we're going to have an event and reception. Steiner Sports has a big autograph session for, I think, the starters of the '86 team, then we're going to have a reception later on that night.
What's your relationship with Lawrence Taylor like these days? When's the last time you spoke with him?
I talked to him maybe two months ago. It's something where time is irrelevant because no matter whether we've spoken the day before or the year before, it's always a relationship that picks up where it left off. It's a great deal of respect because you've forged a relationship that's been borne over time, and hardships and good times. It's a brotherhood; it is truly a fraternity. We've spoken about a half a dozen times in the last six months, and it's always been very cordial, and some of it centers around business and family and those typical aspects of a person's life. You know, it's nice to talk to your teammates.
Has anything that's happened with him in recent years sort of changed the relationship between LT and his former teammates?
I couldn't answer that because I don't know his relationship with other guys, but I can tell you this, that it has no bearing on my relationship with Lawrence. Our relationship has withstood much more than that, and that's not something that we dwell on. Our relationship — and I think any good friendship — is based upon something much more substantial, and it'll withstand its ups and downs, and that's the way I see my relationship with Lawrence.
Going back to your career, you had a handful of touchdowns as a defensive player, and one as an offensive player. What do you remember about the offensive touchdown?
Well, it really hearkened me back to what my very favorite position was, and that was tight end. And unfortunately, I was drafted as a defensive end, but I made the best of it. But I was always considered the third tight end in the Giants' offense, and I played that for many, many years. We practiced it all the time, but in that particular game against the Dallas Cowboys, it afforded me the opportunity to catch them off guard, because they thought that I was just a defensive lineman that was in strictly to block, and fortunately this was a pass play that we had in our repertoire. Phil Simms threw a perfect strike, and I called on my old tight end skills to catch it.
Regarding your work with the NFL Alumni Association, is there a single issue that you're especially trying to push these days?
There's not a single issue, but I think there are a variety of issues that we're concerned with. And I think the number one, if I were to kind of prioritize them right now, it's the long-term health of retirees, particularly as it relates to head trauma. I think that's a vast unknown right now for a number of us, and when you look at the onset of dementia and Alzheimer's, a lot of us are paying particularly close attention to how we are faring as the years pass along, and hopefully we can have expansion of programs that really address those matters.
You walked from the George Washington Bridge to San Diego for charity a few years ago. That's pretty ambitious, so how did the idea for that come about?
It was something that was part of my personal bucket list, probably since I was a very young child, of having that wanderlust of seeing America up close and personal. Growing up in the segregated South and really not being exposed to a lot of America because of my upbringing, I'd always wanted to see this great thing that we call the United States of America, and I didn't want to see it from a window in the backseat of a car or from 37,000 feet in an airplane. I wanted to see it up close and personal. And after driving across country on multiple occasions did not satisfy my quest for it, I came up with the fact that I would walk across America and see it and fulfill my life ambition. And if were going to do that, I wanted to make sure that I had a worthy cause associated with it, and I could think of no better cause at the moment than recognizing people who are real heroes in the form of the first responders and rescue and recovery workers of 9/11.
Lastly, what's your pick for this year's Super Bowl?
Well, I think that my bias is obviously going to go toward the Giants, realistic or not, but I think that it's going to be an evenly matched game. And if defense truly wins championships, I think you've got to give the nod to the New York Giants. And it should be a very good contest and I'm looking forward to it, and I wish everyone the very best, because having been a Super Bowl champion myself, it is the ultimate.