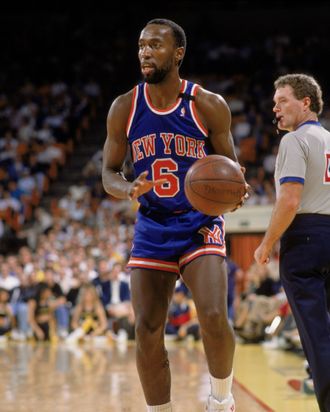 Trent Tucker played eleven seasons in the NBA, the first nine of them as a member of the Knicks. Perhaps his most memorable moment in New York came against the Bulls during the Knicks' annual Martin Luther King Jr. Day game on January 15, 1990, when with 0.1 seconds remaining, he caught an inbounds pass from Mark Jackson and drained a game-winning three-pointer. (That play led to the so-called Trent Tucker Rule, which states that there must be at least 0.3 seconds on the clock for a player to catch and shoot.) These days, he remains active with the Trent Tucker All 4 Kids Foundation, a nonprofit organization that aims to empower underprivileged kids to make positive choices in social and academic environments. Tucker spoke with The Sports Section about the rule that bears his name, facing the Knicks in the playoffs in 1993, and working out with Kris Humphries.
What do you remember about that buzzer-beater against the Bulls? When you let the ball go, did you think it would count? Did you think 0.1 seconds was enough time to catch and shoot?
I did, just because it was the first year they'd gone to tenths of seconds on the game clock, so I felt if there was any time left on the game clock, you should be able to get a shot off. But I can remember the play just like it was yesterday. The play was designed to throw a lob pass to Patrick Ewing, but Michael Jordan read the play, and he took away that first option. And at that time, we didn't have a second option. So I just kind of improvised and knew that Mark Jackson was up against the five-second count on the sideline. And I ran in front of him, and he gave me a little flip pass, and I turned and shot the ball as quickly as I could. And lucky for us on that day the ball went in.
It must be neat to have your name on a rule.
Yeah. It's like, if basketball stays around for a long time, somehow, some way, my name will always be mentioned in that situation.
You played for the Knicks for many years, but were on the Bulls in 1992-93. What was going through your mind when the Knicks went up 2-0 in the conference finals? Because that was a really good Knicks team, and it looked at the time like they may have been able to knock off the Bulls.
Well, you know, the Knicks were a very good team. I think they had the best record in the Eastern Conference that year. And when they won the first two games in New York, you said, whoa boy, this could be a tough deal for us to overcome. You know, they were a physical team. We had to learn how to play them all over again, because during the regular season, you might see them in December, and then you might not see them again for another two months. So it took us some time to figure out how to play against a team that was so physical and so good. And once we were able to get a handle on that, then we were able to play our game to the best of our abilities. And we were able to walk away with the win. And I remember we won Game 6 in Chicago. Patrick Ewing and I had been great friends for a very long time, and I called him after the game and I just said, you know, "I'm happy that we won, but I wish that you were making this trip to the NBA Finals with me."
When you retired, what did you think at the time that you'd do?
Well, I knew the first year I retired I wanted to do nothing. I just wanted to kind of just take it easy and sit back and let my mind and body just heal, and then figure out what my next steps would be. And after year one — after year one of retirement — I felt like I needed to begin to look for something that could bring me some excitement, something that I would enjoy doing. And then I got into broadcasting, so I broadcasted for the Timberwolves for about five years. And during that time, that's when I began to look for other things to involve myself with, and that's when I got into the nonprofit world.
What led you to want to go into the nonprofit world?
I had the great fortune as a young kid in Flint, Michigan, to grow up in a household with a mother and a father. And I know how that type of support can do wonders for a young person. And also, in the community we had people who were always there to make sure we did things the right way. And I just felt like if I could ever get myself in a position where I could give back — and young people are very, very intriguing to me. I like working with them. I like the opportunity of providing resources to give them choices, so they can put themselves in a very good position to do some good with their lives down the road.
How often do you play basketball now? Do you ever play just for fun?
I may teach every now and then. I may go out and find a player here or there, and I may work with their shot, just to help them understand what it takes to get to that next level. But I really don't play anymore. My activity now of choice is tennis.
Have you worked with anyone people might have heard of?
One of the players I used to work with a lot was Kris Humphries, who's with the New Jersey Nets now. He and I spent a lot of time working together when he was in high school.
He's been in the news a lot lately.
Yeah, for other reasons, right? [Laughs.]
Do you keep in touch with him at all?
Yeah, we still talk. He's a good kid. He was great to work with, and he was one of the first guys I really spent a lot of time working with, from a basketball standpoint. It was good to get to know him as a young man. His father and I went to college together, so I've known him for a very long time.
What did you think of all the news involving him, with the wedding and the divorce and everything?
Yeah, I try to stay out of it. I don't read too much into it. It's a whole different world from myself. I just kind of watch him as a basketball player, and I just kind of focus on that.
How closely do you follow the Knicks today?
You know, I'm a huge basketball fan, so I watch basketball on a nightly basis. I still watch the Knicks, I still see myself as a New York Knick. I enjoy watching them. How the they play today, with Mike D'Antoni — his style, up and down the floor, shooting the three-point shot —  would have been a great system for a player like myself.
Is it nice as a former player when your name comes up in the course of a broadcast, or in an article? For instance, Mike Bibby had made seven threes in a row before missing one Monday, and it was mentioned that you shared the franchise record for consecutive threes with ten.
Yeah, because once you leave the game, it's easy for people to forget about you. Because there are new players who come in every day, and you have a new fan base that is younger that really don't know the players of yesterday. Because some of these young kids today, they weren't even born when I was playing. So they really don't have any history of what an older player might have done during that time. But to have your name mentioned in today's game, it's nice to hear because it keeps you involved in the game.