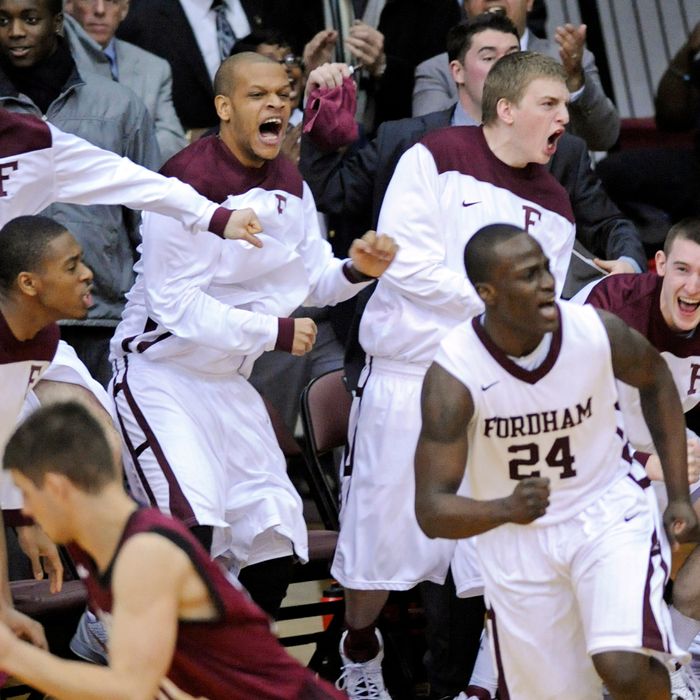 The Fordham bench celebrates a Bryan Smith three-pointer last night.
Now that John Skelton's season is over, we promise we'll only bring up Fordham athletics around these parts when something newsworthy happens. But last night, at the Rose Hill Gym, something kinda newsworthy happened: The Rams knocked off Harvard (a team ranked 22nd in the AP poll and 21st in the coaches poll), marking the first time since 2000 they beat a team in the top 25, and the first time since 1978 (!) that they defeated a ranked opponent at the Rose Hill Gym.
Here's the thing about a win like this: It shouldn't be that big of a deal. Unranked teams beat schools in the Top 25 all the time. But Fordham never could. Even as enthusiasm for the program rose and waned over the past decade — the school won a few games in the Atlantic 10 Tournament between 2005 and 2007, before things started to get ugly — it was hard to shake the fact that the Rams couldn't get over this particular hump. And so when Fordham basketball hit rock bottom in 2009 — the school fired head coach Dereck Whittenburg just five games into the season — a night like last night seemed almost incomprehensible. Back during those dark days, alums like us would have settled for a win over anyone, not just a ranked opponent.
So what's changed since then? Well two things, both of which are related. In February of 2010, the school announced that it would be increasing its basketball spending to elevate its budget from the bottom third of the Atlantic 10 to the top third. And we'll be honest: At the time, we were skeptical that it would make a difference. Spending money is one thing; spending it wisely is another. But the second big moment came the following month, when the school hired Tom Pecora as its new coach. Pecora's a charismatic native New Yorker known for his recruiting abilities, and so far, there's been a steady improvement. (It also doesn't hurt that Chris Gaston, who was already at Fordham before Pecora arrived, is a double-double machine and one of the country's best rebounders.) The year before Pecora was hired, Fordham won two games. Last year, they won seven. And they've already matched that number this year after thirteen games.
But perhaps just as importantly, Pecora's teams have proven capable of getting the type of signature wins that eluded the program for so long. The first came last year, when they beat a very good (but at the time, unranked) St. John's team at Rose Hill. And though Georgia Tech isn't exactly one of the elite teams in the ACC, Fordham beat them last week, as well. (Yes, Fordham is still at the point where it's worth getting excited about a win over a school from a BCS conference, even if said school isn't necessarily among the conference's best teams.) But last night's win was satisfying in a different way. Part of it, to be sure, was that it ended their losing streak against ranked opponents. But part of it is the realization that these noteworthy wins might not be spaced so far apart anymore.
Fordham still has a ways to go: Last year, they had six wins heading into conference play, and earned just one more victory the rest of the way. This year, they'll have seven wins when they begin their Atlantic 10 schedule tomorrow night at UMass. But the program's headed in the right direction, and it's nice to be able to say that confidently. The dream is that one day, Fordham will be a strong program that can beat other strong programs — and do it without the win being considered a huge upset. But for now, as the rebuilding process continues, victories like last night's are worth celebrating.