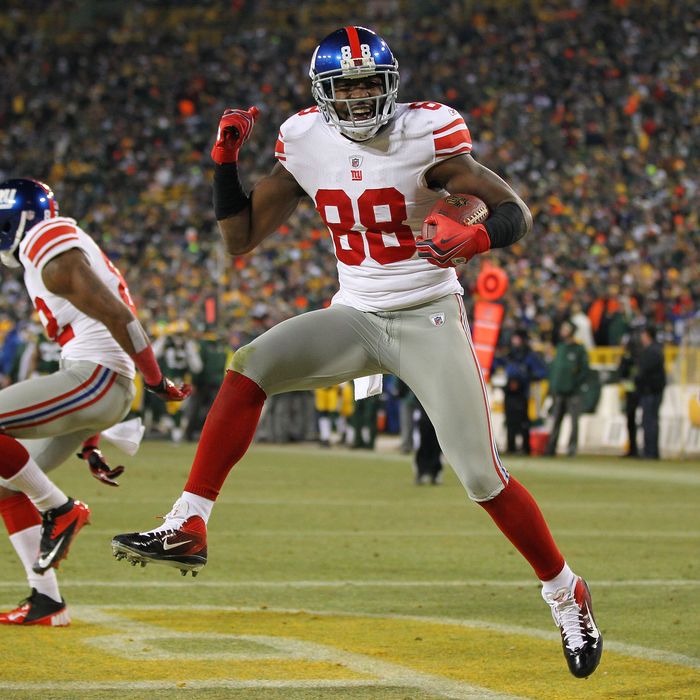 The Giants had reason to be confident entering today's playoff game against Green Bay: After all, they'd given the Packers a good fight when they played them earlier in the season. But wow: Their convincing win at Lambeau Field today was nothing short of a textbook example of how to upset a team with a 15-1 record. Eli Manning and the Giants exploited the Packers' biggest weakness (their awful pass defense), and also did enough on defense to contain Green Bay's dangerous offense en route to an incredible 37-20 victory.
Where to begin? Well, Eli Manning did exactly what he needed to do against a team with a weak passing defense: He threw for 330 yards and three touchdowns, and if there were any doubt that something special was happening with the Giants' offense today, that doubt disappeared when Hakeem Nicks came down with Manning's Hail Mary pass at the end of the first half. (Speaking of Nicks, he had a great day, too, with 165 receiving yards and two touchdowns.) That touchdown, of course, was just one of several big completions for Manning. He sure has looked like an elite quarterback these past couple of weeks, hasn't he?
The Giants' defense didn't totally stop Aaron Rodgers in this one — he threw for 264 yards and ran for another 66 — but they held the Packers to 20 points, well below their season average. They also made big plays at big times: The sack of Rodgers on fourth down with 12:54 remaining in the fourth quarter, for instance, or Kenny Phillips punching the ball loose later in the quarter, allowing Chase Blackburn to return the fumble to the Packers four-yard line when the Giants lead was just 10.
The Packers, meanwhile, weren't at their sharpest: They were plagued all game by dropped passes, and they turned the ball over four times. (The win, by the way, means we don't need to spend much time talking about the officiating. But the four Packers turnovers are in addition to what appeared to be a first-quarter fumble, even though the challenge on that play didn't go Tom Coughlin's way.) The last time these teams played, the Giants gave Rodgers an opportunity to beat them late in the game, and that's exactly what he did. But the Giants outscored Green Bay 17-7 in the final quarter today to secure the victory.
The parallels between this Giants team and the one that captured Super Bowl XLII are undeniable now: They're comfortable playing the role of underdog, even in a hostile road environment. Except that this time, they've already knocked off the so-called best team in football, two games into their run. The Giants may have had an up-and-down regular season, but they're hitting their stride at the right time. If they can do that to the Packers, in Green Bay, they really are capable of anything, aren't they?