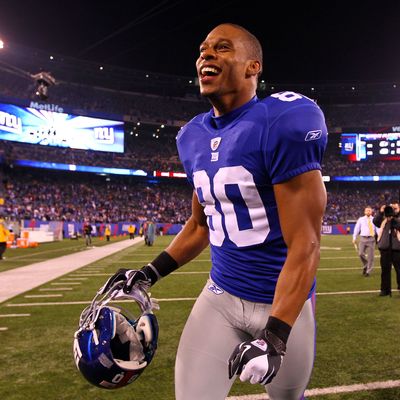 Back before the NFL season began, Jerry Reese said that last year, the Giants might have made the playoffs if they'd just made a couple more plays "here and there." And he also said that this year, they'd make those necessary plays, and get into the playoffs after missing out in each of the last two seasons. So give Reese credit: He was right. In the final game of an often maddening regular season, the Giants made the plays to beat the Cowboys, 31-14, and win the NFC East.
One of the big reasons for the pre-season Giants pessimism was the loss of Steve Smith via free agency. But one of the big reasons this team is playoff-bound is the emergence of Victor Cruz, who set the franchise record for receiving yards this season, and turned in another big game last night: He caught a 74-yard touchdown pass in the first quarter to put the Giants on the board, not to mention a huge third-down pass from Eli Manning for a 44-yard gain in the fourth quarter, just as momentum was swinging towards Dallas. Big plays, indeed.
There was a report before last night's game even began that Tom Coughlin would return next season regardless of what the team did against the Cowboys. And so perhaps last night's win didn't necessarily save Coughlin's job. But it does mean the narrative of this season won't be about how the Giants totally fell apart in the second half of the season and cost themselves a playoff berth. Instead, they won three out of their last four games to clinch the division title, and two of those wins came against Dallas in games that had been circled on the schedule for weeks. Last year's Giants team lost too many games like that, but this year's team — despite injuries and inconsistent play — won them, and so not only are the Giants heading to the playoffs, they've got a little momentum right now, as well.
Speaking of the playoffs: The Giants, as a division winner, will host a game on Wild Card Weekend. There were times this season when we doubted this team would reach the postseason — or that they even deserved to — but here we are, looking ahead to a home playoff game. It's been a bumpy season, but that's part of what makes things fun now: This Giants team is capable of surprising us in both good ways and bad. They've been disappointing at times, to be sure, but we've seen glimpses of a squad that could be dangerous to even the best teams in the league. Last night's game was win-or-go-home, and they responded with a big win. Now, they must do it again. Kickoff against the Falcons on Sunday is set for 1 p.m.