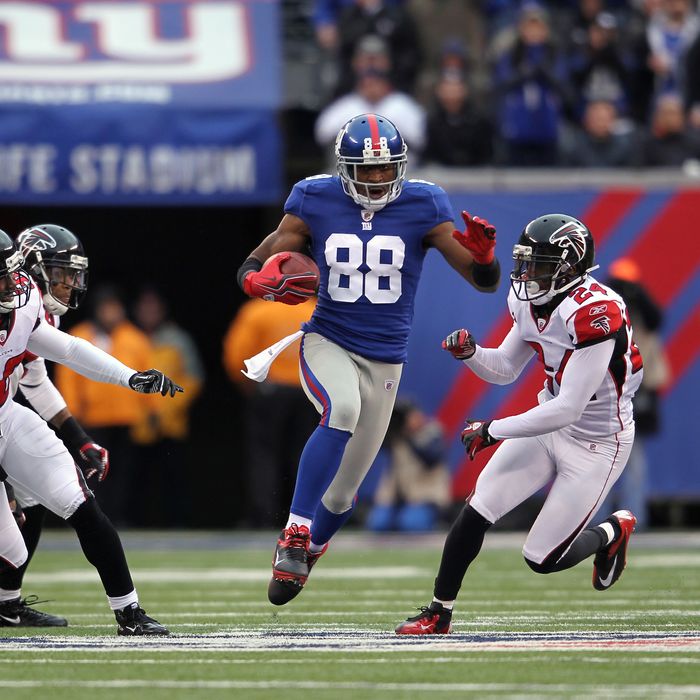 Hakeem Nicks, last weekend.
A week ago, we wrote that it felt like the Giants had accomplished something just by reaching the playoffs, even if a one-and-done performance wouldn't have felt very satisfying. Then came an impressive victory over Atlanta, and with it, the feeling that, hey, this team might be getting hot at just the right time. (Needless to say, that's a nice feeling to have when watching one's team in the playoffs.) And so considering the expectations entering this season, it's hard not to be pleased with where the Giants are right now.
This team didn't collapse in December. They did make the playoffs, just like Jerry Reese said they would. And then, as the favorites (barely) last weekend, they won their first home playoff game in more than a decade, securing their spot among the NFL's final eight teams. No matter what happens Sunday, that's all pretty good. They're playing with house money now. But why stop at pretty good, right?
The Packers, of course, had an outstanding season, and the Giants saw first hand the kinds of things that Aaron Rodgers is capable of. They'll have the home-field advantage Sunday, and they're favored by more than a touchdown. But the Giants are hardly an ideal opponent for the Packers: Tom Coughlin's club has an excellent passing game, they're on a roll right now, and they shouldn't be too bothered by the Green Bay weather (which isn't expected to be as bad as it was for the NFC title game back in 2008 anyway).
We don't want to say that the Giants have nothing to lose. It's a football game, so, you know, they have that to lose. But there's no doubt, after facing a very beatable opponent at home last weekend, that they can now embrace their role as the underdog. They're not supposed to win, which, of course, isn't the same thing as saying they're not going to. They've already proven they can hang with this Green Bay team, and they've already given us reason to believe they'll play their best football now that the season's on the line every week. The question against Green Bay on Sunday, then, will be whether or not their best is good enough.