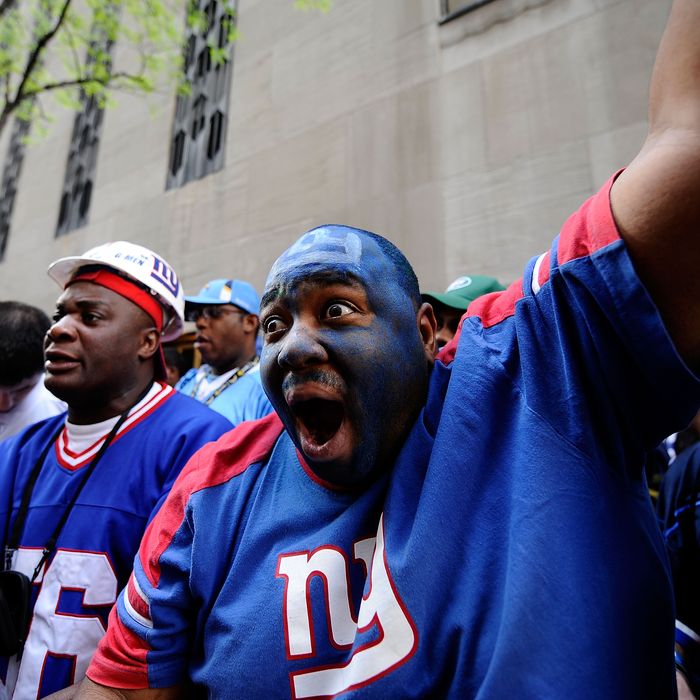 So this guy is pretty happy.
EAST RUTHERFORD, N.J. — The Giants, like the division they won, have been inconsistent all season, with the impressive wins (New England, Dallas) pumping up fans just enough to make the hideous losses (Washington, twice, and Seattle) scare, and hurt, that much more. But one thing that has been consistent about the Giants this year is that their defense hasn't been that great, at least not the way you wanted or expected it to be, especially considering the franchise's history. (The Giants gave up 400 points this year, seventh worst in the NFL.) Coming into their game with Atlanta, thus, a shootout was all but a given: The only question, really, was who would have the ball last for the winning score. (Note: This is something of an oversimplification.) But, turns out: The Giants defense picked a terrific day to have its best game of the year.
The Giants furthered Atlanta quarterback Matt Ryan's playoff nightmares — he's now 0-3 lifetime — by smashing the Falcons 24-2 in their wild-card playoff game today, and the defense essentially pitched a shutout. The Giants defenders were all over the place, and the Falcons' shoulders were essentially locked in a permanent slump from halftime on, even though they were only down 7-2 at that point. The game will probably end up being known — if it is known at all; like the other wild-card games so far this weekend, this one was a bit of a dull affair — as The Game The Falcons Had The Darndest Time Picking Up One Yard, with three key Giants stops with the Falcons just one yard away from a first down. (It is unlikely Atlanta coach Mike Smith will ever call a quarterback sneak the rest of his life, suffice to say.) It is also much more fun to win 24-2 than 24-0; 24-2 is somehow comically more satisfying.
But the Giants' defensive performance is even more impressive than it looked. The only Falcons' points came on a first-quarter safety when Eli Manning — who was outstanding otherwise, throwing for three touchdowns, none of which went to Victor Cruz — was called for intentional grounding in his own end zone. The Giants ostensibly shut out the Falcons, a team that averaged 25 points this season, without the benefit of a single turnover. It was a complete wipeout in every possible way. Here were the Falcons' possessions today:
Punt.
Punt.
Stopped on downs.
Punt.
Punt.
End of first half.
Punt.
Stopped on downs.
Punt.
Punt.
Stopped on downs.
So: It wasn't a fun day for Falcons fans, that's what we're trying to say here.
'Twas the platonic ideal for Giants fans, though. Their team looked like it didn't break a sweat, Hakeem Nicks broke out the Dirty Bird (and offended Jamal Anderson in the process) … and it looks like the Giants might have their feared defense back.
The timing couldn't be better, because they're sure gonna need that defense next week. They face the steamrolling Green Bay Packers in the divisional round, the best offense in football this year, and maybe for the last several years. As you'll hear all week, it's a rematch of Week 13's Giants 38-35 loss in Green Bay, one of the most entertaining games of the season. And as you'll hear even more this week, the game is taking place almost exactly four years after the Giants' shocking NFC Championship Game win over the Packers in Lambeau that led to the even more shocking Giants Super Bowl win over New England. (You can be sure to see that game on NFL Network this week, if you're one of the fortunate people who actually receive the NFL Network.) It's gonna be a fun week.
But no need to get into that all yet; that game doesn't need any more hyping here. For now, Giants fans can just enjoy their team's most dominating performance of the season, at the best possible time. Just because the game was dull doesn't mean it wasn't deeply impressive. Green Bay can wait: Today, the Giants were at their absolute best, so much so that it almost wasn't much fun to watch. (Almost.) Giants fans will surely take the same next week.