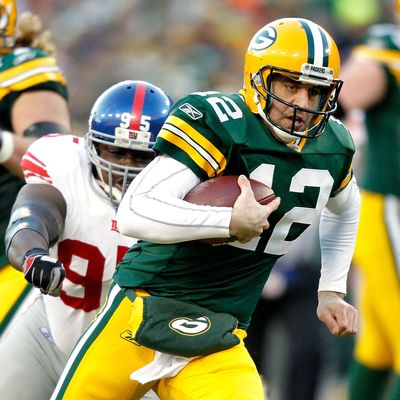 Aaron Rodgers, last season.
You'll hear a lot this weekend about the 2008 NFC Championship game at Lambeau Field, in part because comparisons will be inevitably drawn between that underdog Giants team and this one, and in part because Fox surely won't pass up the chance to show video of Tom Coughlin's face from that day. You'll also hear a lot about the exciting Week 13 game between these teams — a contest in which the Giants gave Green Bay a helluva fight but fell just short. But there's another Giants-Packers game we've been thinking a lot about this week: Green Bay's 45-17 rout in Week 16 last season.
After all, while many of the principles from that NFC title game are gone — Brett freaking Favre was still the Packers quarterback then — December of 2010 isn't all that long ago. And the Giants took quite a drubbing at Lambeau last season: Eli Manning threw four picks, Aaron Rodgers threw for more than 400 yards, and the Giants were left clinging to fading playoff hopes. The Packers had lost their previous two games — the second of which they played without Rodgers — but it would be nearly twelve months before they'd lose another game. The Giants, meanwhile, would go on to miss the playoffs for the second straight season.
The Giants team we saw that day was the type we momentarily feared would return this season: A squad that fell apart in the final weeks of the season, losing critical game after critical game. Thankfully, this year's Giants didn't follow that script: They picked up some key victories late in the regular season, got into the playoffs, and then won again in impressive fashion last weekend. Lambeau Field is the site of one of this franchise's greatest victories, but it's also the site of a game they'd like to pretend never happened. Safe to say, a win Sunday would help them forget.