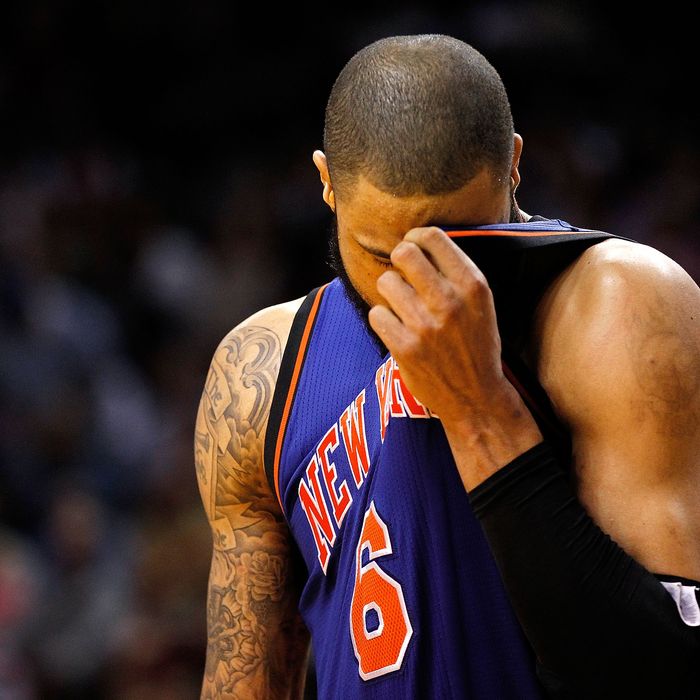 The game's up here, Tyson.
It's pretty rare an in-season day goes by without a post about the Knicks, but boy, did we want to skip one today. The Knicks didn't play yesterday, and they don't play tonight, and there's no pressing news, other than this strange Post story about some Knicks being "surprised" Baron Davis doesn't think he's ready to play yet. (Guys: He's coming back from a major injury and still would be returning far ahead of schedule. This should alleviate your confusion, some Knicks.) The real reason we wanted to skip today, though: There is literally nothing positive to write about involving the Knicks right now. Wait: No players have gout, rickets. or scurvy. That's positive.
The two losses over the weekend — to Miami on Friday and Houston on Saturday — were dreadful affairs (all right, the Bill Walker 3-Point Show on Friday provided a few fleeting moments of silliness), the logical results of not having Carmelo Anthony and not having a feasible point guard at the same time. (It's ugly.) The Knicks have lost nine of ten, and their playoff odds are now lower than the Nets'. It is nasty stuff out there. The Time Warner–MSG dispute is beginning to look less like an outrageous corporate scam and more like a blessing. (Though Rangers fans likely disagree.)
So … can we provide any hope here? After all, since we started writing about the Knicks around these parts three and a half years ago, we've always sort of found it a quiet duty to try to find something uplifting to say about them, if just to be a contrarian optimist. (We actually once quoted Free Darko as saying Anthony Randolph was "several thousands theories of basketball colliding in the same place at the same time.") We got excited about Sergio Rodriguez, about Roger Mason, about Jonathan Bender, about freaking Darko. We want the Knicks to win. We want this to be fun. It's true. We confess.
Right now, it's not so easy. Let's give it a shot. Dammit, we've got to try.
Ten Non-Sarcastic Reasons to Be Excited About the Knicks Heading Forward
1. Carmelo returns tomorrow night against Detroit and should be somewhat slightly healed.
2. The last fortnight, Landry Fields has been playing the way Landry Fields was playing when we all got amped about Landry Fields.
3. The 76ers have explored trading for Amar'e Stoudemire. This isn't going to happen, but it's at least encouraging that someone out there doesn't think Amar'e is done.
4. Toney Douglas is looking slightly better of late.
5. Jeremy Lin might only be playing when the Knicks are toast — sort of making him the opposite of a human victory cigar; maybe a human gas face? — but every time he's on the court, he's the only player you watch.
6. Tyson Chandler is playing the way you want Tyson Chandler to play, and he's not hurt.
7. Baron Davis will be here eventually.
8. The Knicks were even worse than this after twenty games two years ago.
9. Tuesday night's game against Detroit is eminently winnable, before the season's lone back-to-back-to-back starting Thursday. (Home against Chicago, at Boston, home against New Jersey.)
10. All right, so we got nine of them anyway.
See, we made it through a whole post about the Knicks. There's hope yet! All is not yet lost! Lose to Detroit tomorrow, though, and all bets be off.
UPDATE: Looks like neither Carmelo Anthony nor Baron Davis will play tomorrow, per Alan Hahn. Well that's just great.