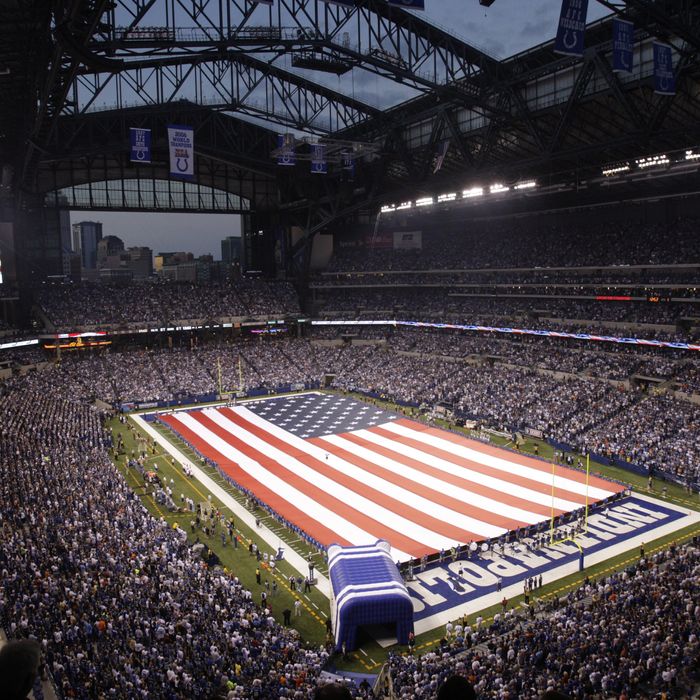 They remove the flag when the game starts. Well, most of the time.
You guys, the Giants are in the Super Bowl! Seriously? We're surprised you're just now hearing about this. Man, you gotta go. Sure, the Super Bowl can be a bit pricey, and sure, the Super Bowl is in Indianapolis (how did that happen, by the way?), but Super Bowls don't come around often, even if you're a Giants fan. So let's take a look to see how much it'll cost to get you there, if you take the cheapest possible option.
So, we're going under the assumption, first off, that you don't want to be a part of "Super Bowl Week" itself. (We've been there. Trust us, you don't want to.) Thus, the amount of time you'll be spending in Indianapolis is minimal. Unfortunately, there will be no flights heading back to NYC after the game on Sunday, so you'll need a hotel for the night. There is a flight that'll get you to Indianapolis at 3 p.m. on game day from NYC, and if you're willing to make a brief layover in Charlotte, it's even a cheap one: Only $131. Not surprisingly, because of all the media folk flying back from Indy on Monday, that leg will be a lot more expensive: It's $697 for a direct flight into Newark at 8:45 the next morning. (The Giants making the Super Bowl is terrific for the airlines, anyway.) You're also looking at about $120 for cabs, combined.

You need a hotel for Sunday night, too, and that's definitely gonna be a problem. Indianapolis hotels are unquestionably price-gouging; on Hotels.com, Baymont Inn Greenwood, which is a lousy hotel 20 miles from Lucas Oil Stadium, is charging $1,000 for Sunday night. You're better off with the EconoLodge Lebanon, which is 35 miles away but "only" $450. (Our parents live 100 miles away, but you can't stay with them, sorry.) Because you're so far away, if you don't want to rent a car, you're looking at another $100 in cab fees.
All right, now we can finally talk about a ticket to the game. The average ticket is running about five grand, but we're going cheap here: Right now, you can buy a single ticket in the wretched Terrace End "zone" of the stadium (seats that are notoriously impossible to see anything from), for the discount price of $2,495. What a deal!
Adding it all up: If you take the cheapest, least comfortable trip, with the real chance of missing your connecting flight, cost yourself a day of work, spend all day in cabs shuttling around Indianapolis, stay in awful hotels dozens of miles away from the actual venue, and cut the price down to the very bone, you're looking at a final cost of $3,993.
So the Giants better win, 'tis what we're saying.