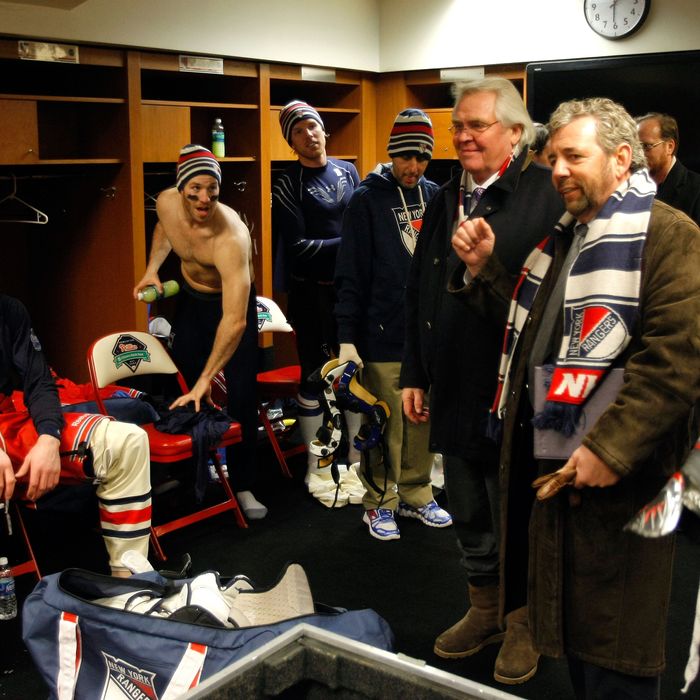 Jim Dolan (right) and Glen Sather in the Rangers' dressing room after the Winter Classic.
Toward the end of the finale of HBO's 24/7, Rangers fans were treated to an uncomfortable bit of footage: Jim Dolan, standing next to Glen Sather in the Rangers dressing room, telling his team how proud he was of them. Dolan's involvement in the Knicks has been a topic of discussion for years, but his name rarely came up when discussing the Garden's hockey team, and we imagine Rangers fans have been okay with this. But there was Dolan after the Winter Classic victory over the Flyers — at a time when the Rangers were putting together their best season in more than a decade — reminding us he owns a hockey team, as well.
And apparently that wasn't the last we'd see of Jim Dolan, hockey team owner. Last night, for the first time since the 2005-06 season, Dolan spoke with the Rangers beat writers, and said that he believed the Rangers were "pretty close" to winning the Stanley Cup. (Rangers fans who are afraid that this terrific season could turn at any point are advised to stop reading now.) Via Katie Strang at ESPN New York:
"I'm very proud of the organization," Dolan said after the team's 3-0 win over Nashville. "I'm particularly proud of Mr. [Glen] Sather because all the way back to 2004 when things weren't going so well and we had a lot of free agents here and we decided to basically re-do the strategy, Glen and I made a pact.

"I gave him something, which I won't reveal today, but I gave him something to seal the pact. I said 'You can't give it back to me until we win the Stanley Cup.' And I think we're pretty close to getting that thing back," said Dolan, who has not addressed the Rangers media since the 2005-06 season.
There's a lot to unpack here, but first of all, we really want to know what Dolan gave to Sather. We'd like to think it's something that Sather doesn't want, but is forced to keep until the Rangers win it all. Our guess: There is currently an angry bobcat in Glen Sather's office, and it'll remain there until the Rangers are champions again.
But more importantly, of course, is that part about the Rangers being "pretty close" to winning the Stanley Cup. It's here we'll state that we agree that Sather — the same man who once gave Bobby Holik a five-year, $45 million contract —  has done a great job building this team the right way. And it's here we'll also state that it's still just mid-January. We'd encourage you to listen to the audio of Dolan's remarks, if only to hear John Tortorella say "easy" (as in, let's not get ahead of ourselves) when Dolan mentioned the Stanley Cup stuff. Added Torts minutes later: "I have my owner up here talking about a Stanley Cup. That's a bunch of bullshit. We need to take it one game at a time."
Tortorella got some laughs for that line, but really, it's exactly what you'd expect him to say in this situation. Tortorella has been careful all season not to get too wrapped up in the Rangers place in the standings, and is just as willing to praise his team for a strong performance as he is to criticize them for a poor one. Tortorella gets it: He knows that the Rangers are playing well, but he also realizes that they're not so dominant that they can afford to take their foot off the gas at all. And continuing to win games this frequently won't be easy, so it's little surprise that Tortorella would make it clear that he thinks any Stanley Cup talk at this point in the season — particularly the idea that they're "pretty close" — is "bullshit," even if that talk is coming from the team owner.
The good news for Rangers fans, we guess, is that they're playing so well that even Dolan feels the need to publicly commend them. But those fans would be forgiven for being a little worried that Dolan might be taking a bigger interest in their team. We'd like to think that Dolan understands he's no hockey expert, and that he won't meddle here, instead letting his hockey people make hockey decisions. Dolan is as excited as the rest of us to see the Rangers atop the NHL standings, but this team's window of opportunity is just now opening. They're still a young team, and there's reason to expect they're still growing as  group. It's clear that the hockey people understand this. Here's hoping they can try to finish what they started without interference — and that expectations can be kept in check.