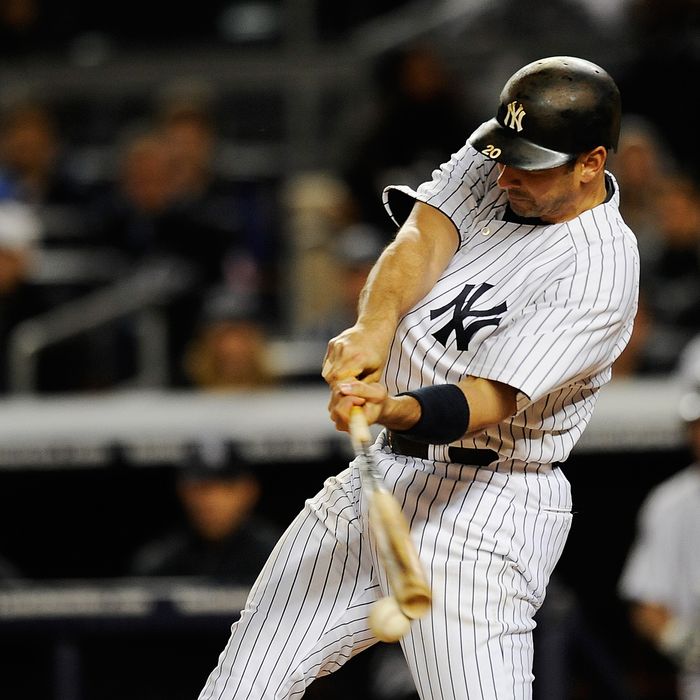 Sweeny Murti broke the news over the weekend that Jorge Posada — who has played all 1,829 of his big-league games as a Yankee — would announce his retirement within the next two weeks, rather than play for another franchise. (He reportedly had offers to play elsewhere, too.) Posada's credentials would have sparked an interesting debate over whether or not he's worthy of induction into the Hall of Fame no matter when word of his retirement broke. That the story broke during the height of Hall of Fame debate season — the 2012 class will be announced today — was just a nice coincidence.
This isn't the first chance we've had to reflect on Posada's career. In fact, there have been plenty of opportunities to do that over the past few months, first after it appeared that he'd played his final game in pinstripes, and again when he said he didn't expect to be back with the Yankees in 2012. But we first started to consider Posada's career after the 2010 season, when we saw his name on Big League Stew's all-decade team, which included one big-league player from each position. We realize that timing plays a big part in something like this — Joe Mauer didn't make his debut until 2004, while Mike Piazza and Ivan Rodriguez were already stars by the mid-nineties. But it's hard not to give a guy serious Hall of Fame consideration when he shows up on a list like that.
Over at Baseball Prospectus, Daniel Rathman writes that Posada is not in the class of Yogi Berra or Johnny Bench (no arguments here). He continues, however: "But with a career triple slash of .273/.374/.474 at a position where offense is often secondary, Posada should rank among the top 15 or 20 backstops to ever play the game." If you're curious, there are currently sixteen catchers in the Hall of Fame. Posada really is right on the bubble. (For the record, Rathman thinks Posada falls just short of deserving induction.)
The argument for Posada goes like this: He made five All-Star teams and won five Silver Slugger awards, and though he wasn't known for his defense, he was undoubtedly one of the best-hitting catchers of his generation. Over the weekend, Tom Verducci put his career numbers in some perspective:
Among all catchers since 1901, Posada ranks third in walks (936), seventh in doubles (379), sixth in OPS (. 848), eighth in OBP (. 374) and home runs (275), ninth in slugging (. 474) and 11th in RBI (1065).
Buster Olney points to another stat that we think nicely places Posada within the context of his peers:
The strength of Posada's Hall of Fame argument comes in where he ranks among the modern catcher. Among those who debuted in the 25 seasons from 1987 to 2011, he ranks among the very best.

Most wins above replacement for catchers who debuted from 1987 to 2011:

Ivan Rodriguez — 67.3
Mike Piazza — 59.1
Jorge Posada — 44.1
Joe Mauer — 40.7
Jason Kendall — 37.7
Javy Lopez — 27.9
Victor Martinez — 27.9
Based on their on-field performance, and considering that Mauer is still young, the question really becomes whether the bar for inclusion belongs just above or just below Posada's name. We'll be honest: We'd always thought Posada fell just short of inclusion — better than most of the guys in the proverbial Hall of Very Good, but not quite Hall of Fame–worthy. But we think a couple of things will work in his favor. It might be dangerous to factor in a team's success when considering a single player, but we'd imagine his association with the Joe Torre–era Yankees dynasty will help his candidacy. And knowing what we do about how some BBWAA voters make their decisions, it should also help Posada that he's never been connected to, accused of, or suspected of P.E.D. use. (Like it or not, those are considerations for some voters these days, though we'd note Posada's name is years away from appearing on a ballot, so voting philosophies could evolve in the meantime.)
But here's the thing: Posada wouldn't be the first borderline Hall of Famer to get in. Here's how we think it'll go down: Posada won't get in on the first ballot, because that's generally reserved for the no-doubt inductees. It's possible that Mariano Rivera's name will appear on the ballot the following year (if he retires after this season), while Derek Jeter's will likely appear either the following year or the year after that. And because Posada will forever be associated with Jeter and Rivera, but doesn't quite belong on the same tier as those two, voters will see to it that they're both in before Posada is. But Posada could still be on the ballot for many years after that, and if the bar for induction really is set just above Posada (like we believe it is), we think he'll eventually get enough support to reach the requisite 75 percent.