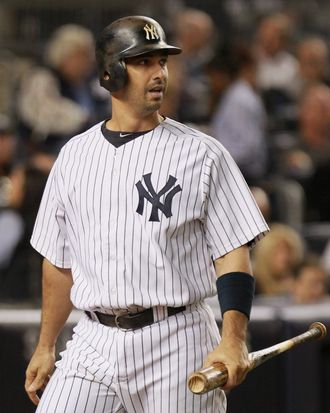 We've known for weeks that Jorge Posada had planned to retire, but today, he officially made the announcement at a press conference at Yankee Stadium. Some highlights:
• During his opening remarks, Posada — who might have been able to catch on with another team, if he wanted to keep playing — said, "I could never wear another uniform." Later, he said that teams had called, but "I knew in my heart and I knew in my head that I didn't want to play anymore."
• Posada was asked if he was always confident he'd make it to the big leagues, or whether there were any phone calls home, in the reporter's words, that made him wonder "if this was going to happen." (Derek Jeter famously made such calls when in the minors.) But Posada said that while breaking his ankle in 1994 was difficult, he never had much doubt. "Never in the minor leagues. Never as a kid. I always thought I was going to make it."
•When asked about making the transition in the minors from infielder to catcher, he relayed an anecdote about catching former top-pick Brien Taylor: "All the scouts are behind Brien Taylor, looking at Brien Taylor, and I'm catching, and I'm missing balls, I'm grabbing the balls by the fence. It was not a pretty sight." Needless to say, Posada's career (1,829 games in the big leagues) turned out slightly better than Taylor's (zero games in the big leagues).
• Posada was asked about his memorable hit off Pedro Martinez in Game 7 of the 2003 ALCS, and he said he was as surprised as the rest of us that Grady Little let Pedro pitch as long as he did. "I thought they were going to take him out," Posada said. He added that Martinez had been pitching him inside all day, so he was looking for something in, and got it.
• Posada was asked if he considered himself a Hall of Famer, and though he didn't give a yes or no answer — instead saying it was up to the writers to decide —  it was refreshing that he didn't really hide the fact that he would like to get in. "I'm really excited to see what's going to happen. But I think, that's up to you guys and hopefully we can talk about it five years from now."
• He also didn't hide the fact that last year — in which he served almost exclusively as a DH — was difficult: "Last year was really tough. Not being able to catch, not being able to fight for my job. I was told I was going to be the DH, and that's it. That's tough times."
• Finally, he was asked if there were any chance he'd change his mind and return to playing. (You'll recall that Andy Pettitte didn't totally close the door on a return during his press conference last off-season.) Said Posada, "I don't know. Good question." With a smile, he added, "I'm not going to give you a percentage of how retired I am. But no, I don't see myself coming back."