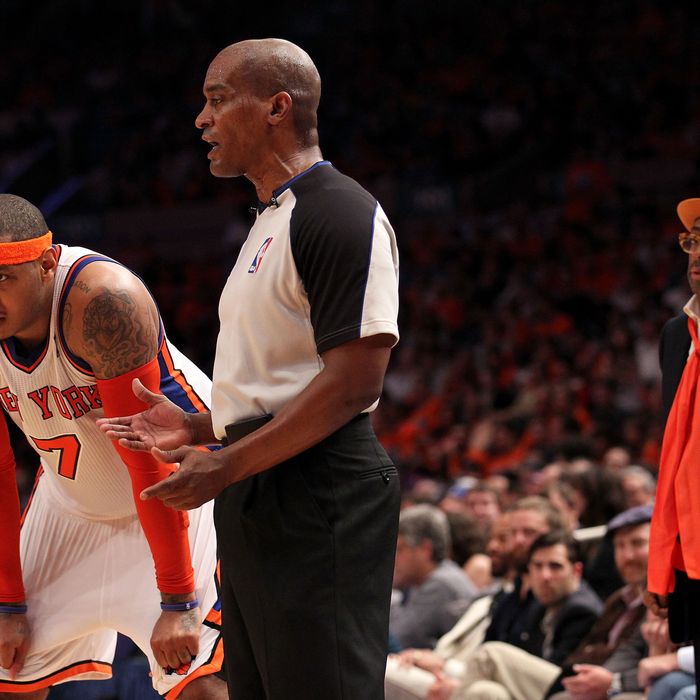 Spike'll be excited tonight.
The Knicks have about as soft a winning record as you can imagine. The four teams they have beaten since Boston on Christmas Day — Sacramento, Charlotte, Washington, and Detroit — have a combined record of 8-26. (And Boston's only 4-4, for that matter.) They have lost 4-6 against Toronto, 2-8 against Charlotte, and 3-6 against Golden State. They are 24th in John Hollinger's Power Rankings, behind New Orleans and Cleveland and Milwaukee. They are lucky to be 5-4, and that record looks particularly weak considering their competition. That competition becomes a lot tougher tonight.
Tonight, the Philadelphia 76ers come to the Garden, and not only are they 7-2 with a six-game winning streak, according to Hollinger's system, the 76ers are the best team in the NBA so far this year. Let him explain it (ESPN Insider subscription required):
It's become clear that continuity, youth and depth are three major advantages this season. The Sixers qualify on all three counts, with the exact same rotation as a year ago, seven of their nine rotation players ages 25 and under, and a second unit that has been a difference-maker on many nights. So although it's only eight games, Philly has to qualify as the league's biggest surprise thus far. The Sixers might not stay atop the daily power rankings all year, or even all week, but they look legit as a top-four playoff seed in the East.
And here they are at the Garden, red hot though perhaps a bit tired, with tonight being the third game of a back-to-back-to-back for them. (We repeat that something cannot actually be "back-to-back-to-back." At some point, you must have a front.) In that sense, considering how rare back-to-back-to-backs are, and how inherently exhausting they must be, the Knicks might be catching the 76ers at the right time. Especially considering the Knicks just had a day off after a home game and have a three-game winning streak of their own.
But the Knicks still haven't beaten a good team (sloppy Christmas Day game aside), and have lost to several bad ones. Tired or not, the 76ers are a good team. Even with the three wins, Knicks fans are justifiably a bit skeptical about this heralded team. A win over a Philadelphia, "best team in the NBA" or not, would certainly quiet some doubters. And it'd have the pleasant side effect of taking out a major Atlantic Division rival. We'll have a better idea of where the Knicks stand at this point of the season after tonight, no matter what happens.
The only sad part: Tonight is another night without Hip-Hop, the Sixers' late rappin' rabbit mascot.